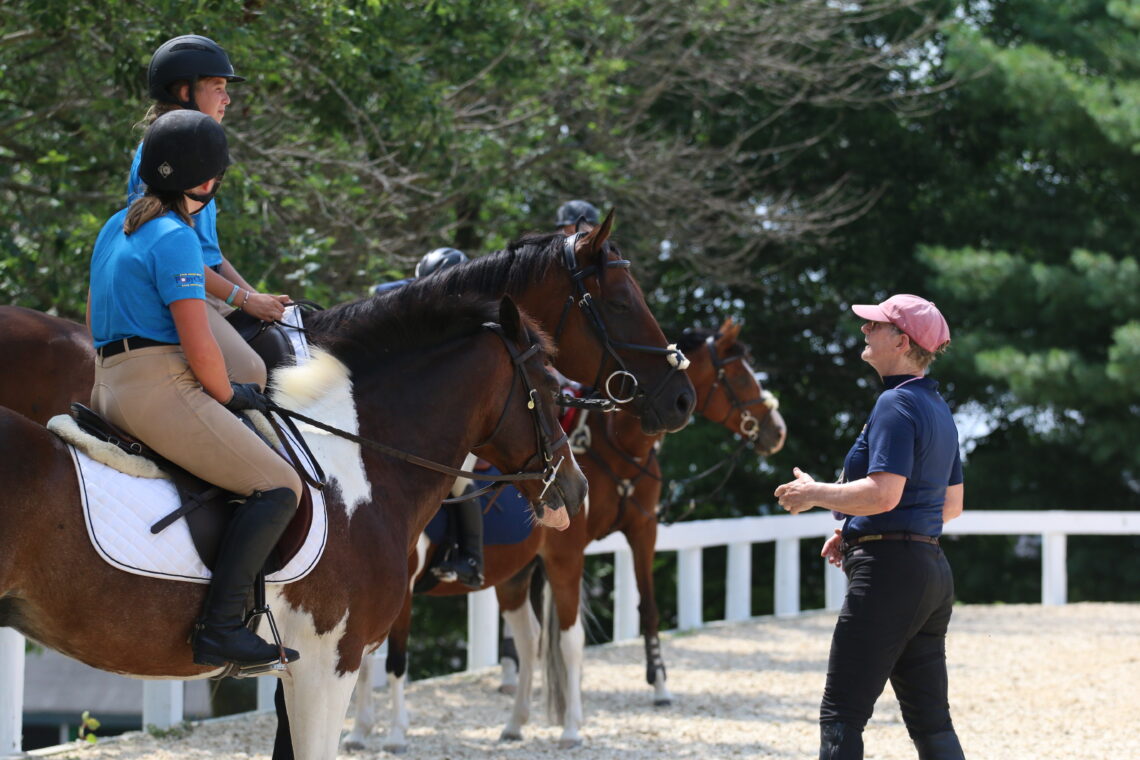 Instruction Resources for USPC Leaders
Pony Club leaders and instructors are essential in guiding members through Pony Club's education. To help you and your members succeed, the USPC website has a helpful selection of resources you can use to teach the Pony Club curriculum and share with your members.
Here is a guide to some of the reference materials, lesson plans and other instruction information you'll find on the USPC website.
When logged into the USPC website, go to the Instruction header and begin with the Instruction Resources page.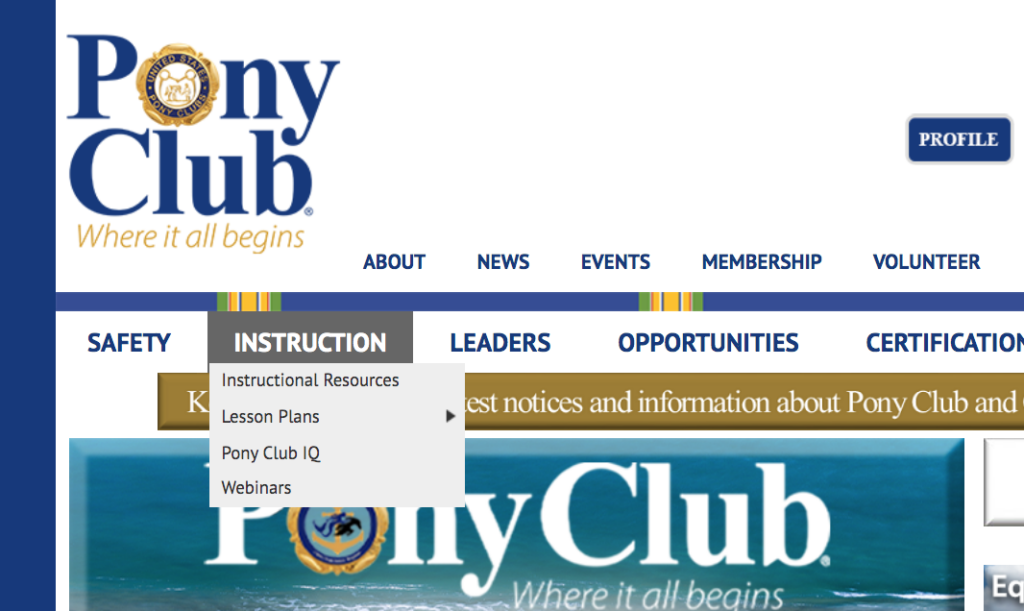 Take some time to review the many instruction resources on this page. The quick links on the far-left side of the screen will take you to key pages where more detailed items are located.
Lesson plans are divided into three categories: Horse Management (unmounted), mounted, and discipline specific lesson plans.
Other resources on this page include essential member safety information plus ideas for camps, fun rallies and barn fairs.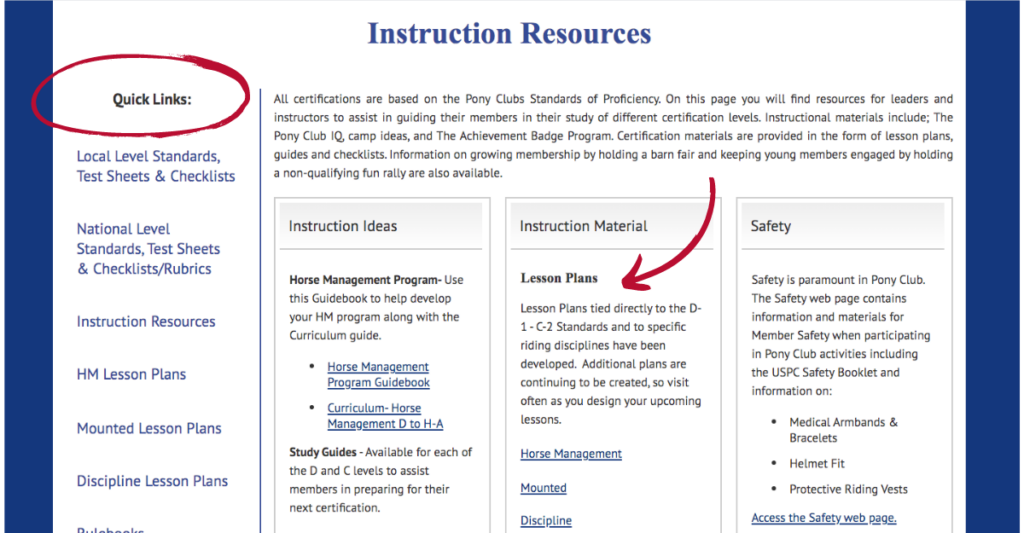 Make sure to visit and understand where the Standards of Proficiency documents are located, as these contain the USPC curriculum for Pony Club. The Standards of Proficiency documents spell out the skills and knowledge required for each level.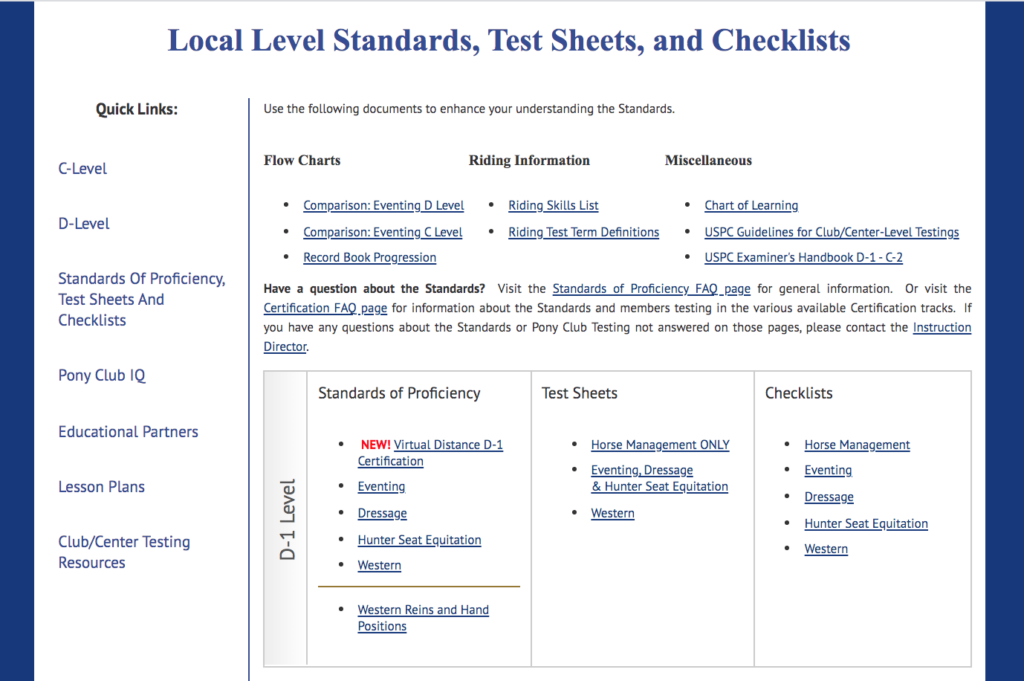 Each certification level has its own page with study material, videos and other documents to help you teach and share the Pony Club curriculum.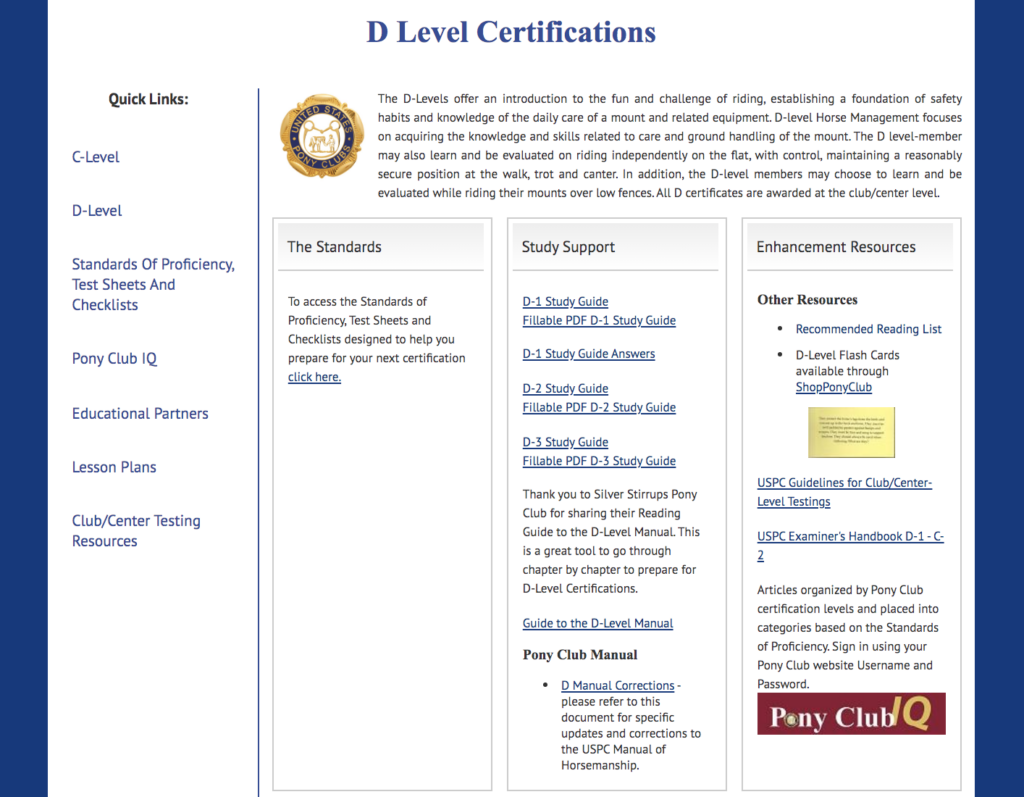 Pony Club IQ is a great source of current and reliable information about horse health and care provided through USPC's partnership with The Horse. Articles from TheHorse.com are organized by certification level and placed into categories from the Standards of Proficiency to help members study and prepare. Sign in using your Pony Club website user name and password.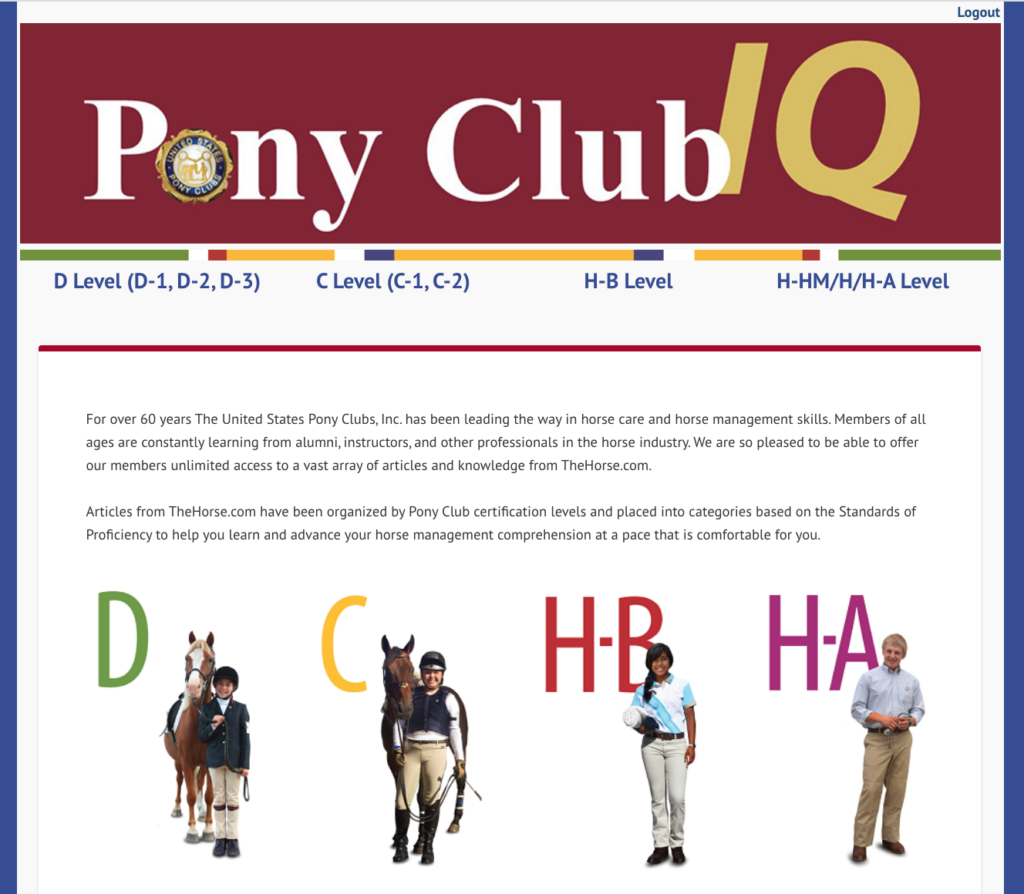 Pony Club's YouTube channel is another great place to locate educational videos for you and your members, with new ones added regularly. Check out the playlists sorted into helpful categories including local and national level certifications, horse management, and by disciplines as well.
Don't forget the USPC Manuals of Horsemanship! These are essential for everyone as both a reference and teaching tool.
Other instructional items can be purchased through ShopPonyClub such as: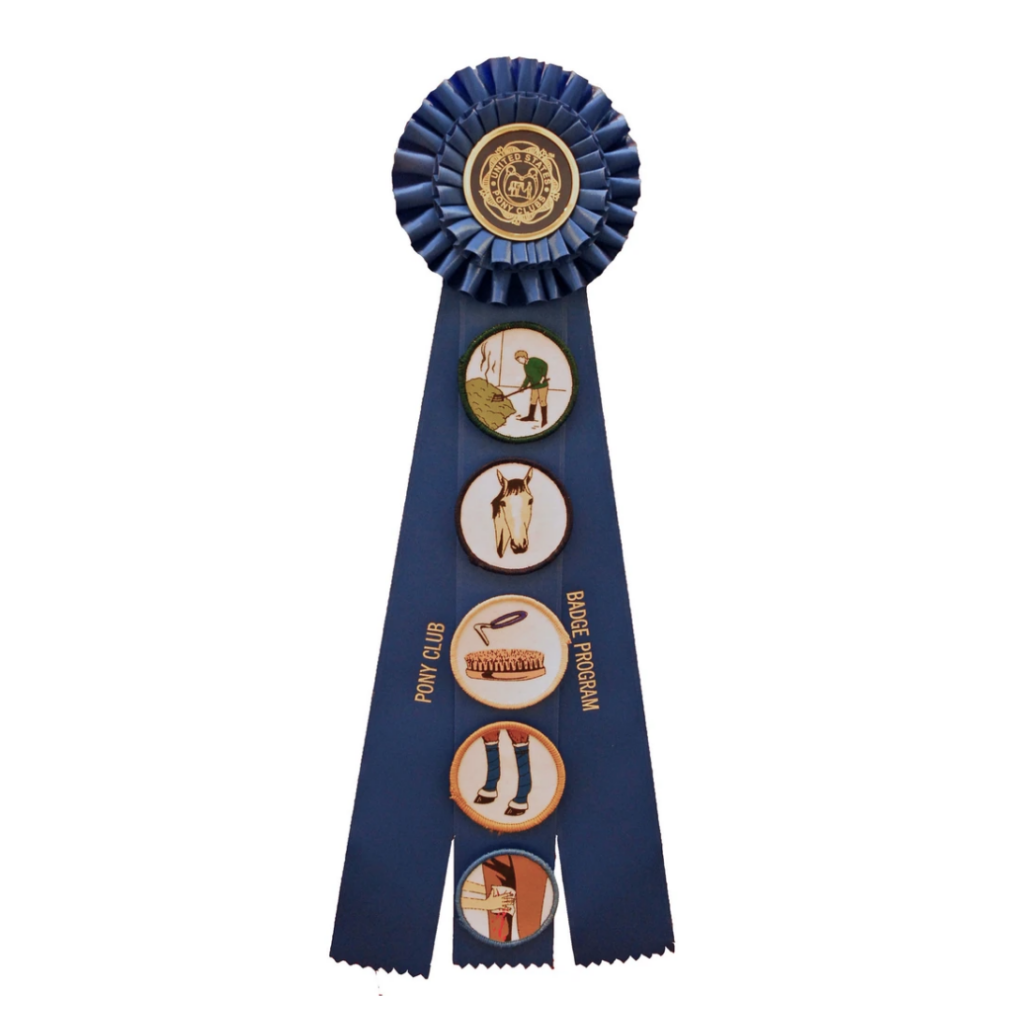 USPC Badge Program— Designed for the D level member to gain a sense of achievement as they work towards their next certification, with 15 Horse Management badges and 10 riding badges available. Workbooks outline the skills, objectives and knowledge for each badge, while the Instructor's Guide booklet includes helpful resources to teach the program.
Junior Pony Club Program—This 14-week program is designed to introduce very young members and their parents to all that Pony Club has to offer. It is specifically geared toward younger children who are not quite ready to join the group of older members for activities, with weekly lesson plans from the D level manual accompanied by coloring pages and activities.
If you need any instruction tips or ideas and don't see something on the website that helps, please feel free to contact your local Regional Instruction Coordinator or the Instruction Department at the national office. Reach out to Connie Jehlik or Macee Matott Klimper with your questions and suggestions.