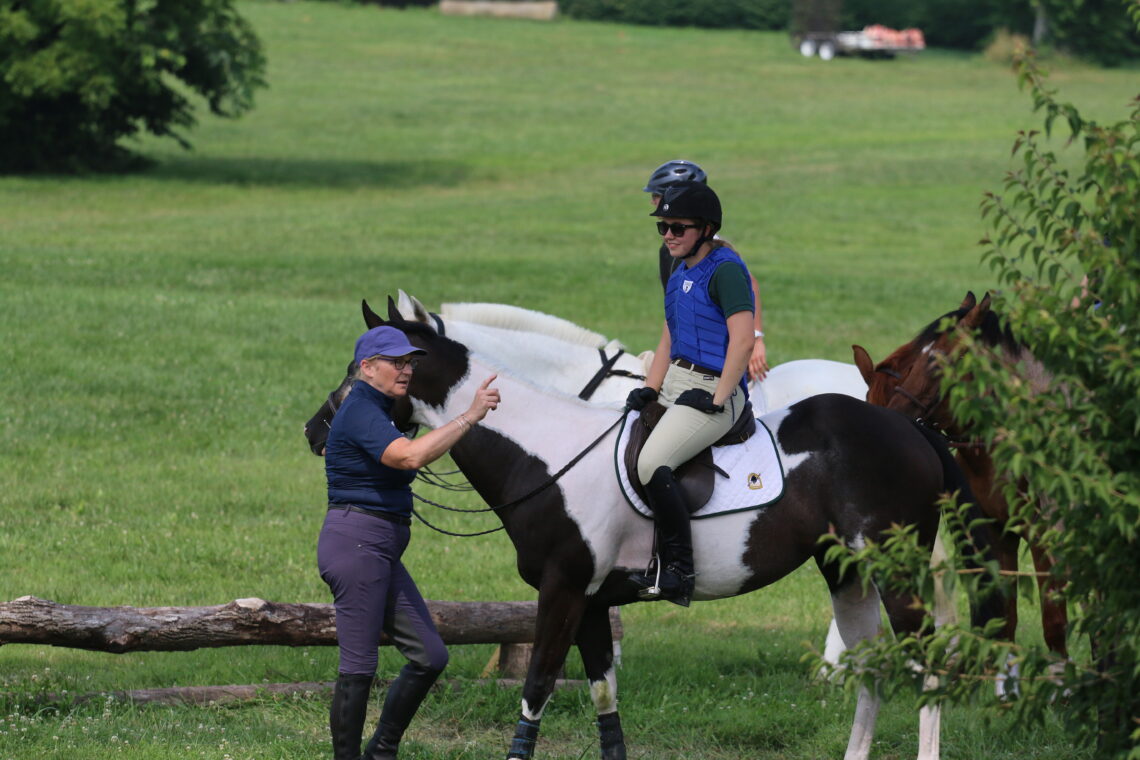 Continuing Education for Eventing Instructors
Pony Club reports from the 2022 United States Eventing Association Instructors' Certification Program Symposium.
By Barb McMorris
On a cold and rainy February day in typically sunny Ocala, Florida, more than 150 dedicated equestrian professionals, instructors, and riders gathered to collaborate and learn from each other. It was the much-anticipated 2022 United States Eventing Association (USEA) Instructors' Certification Program (ICP) Symposium where the new handbook, Eventing Through the Levels, debuted. Held at the beautiful Barnstaple South facility, the ICP Committee and faculty set out to inspire, and that they did!
The USEA Instructors' Certification Program began in 2002 to educate all levels of eventing instructors with a foundation of essential training principles to build upon throughout their teaching careers.
The handbook is a two-year collaborative project of the ICP Committee, spearheaded by member and Level IV Certified Instructor Jennifer Rousseau, who moderated the symposium. It details concepts and skills that the ICP Committee and faculty universally agreed a rider needs to accomplish to competently enjoy the sport of Eventing at each level, Starter through Advanced. It provides information to assist riders, parents, and instructors to understand what is needed to be successful at each level. It offers exercises instructors can utilize and provides guidance for clients to assess whether they are getting what they need from their program.
An Interactive and Educational Experience
Attendees didn't just sit and listen to the experts. A major focus of the symposium was the interactive sessions where participants worked in small groups with an ICP faculty member. The task was to observe an assigned rider, identify one concept to address in a lesson, and come up with a plan. The ICP faculty then demonstrated the lesson, allowing all in attendance to watch a professional certified instructor execute their plan. The faculty included some of the very top clinicians in the sport: Karen and David O'Connor, Phyllis Dawson, Eric Horgan, Jim Graham, Mary D'Arcy, Emily Beshear, Robin Walker, and others. Their passion for sharing their knowledge with everyone and desire to provide tools for instructors at all levels was evident. Thankfully the second day the weather was sunny, and coats could be shed as we moved to the cross country course to participate and observe those mini lessons.
The symposium included lectures in addition to the interactive experiences. David O'Connor presented on course design and its importance in the progression of the horse and rider. He addressed the horses' field of vision and the impact of shape and colors of the fence and of the background on a horse's execution of a question, providing suggestions of what changes might be made while schooling to increase the horse and rider's opportunity for success and learning. Will Coleman shared his expertise in the show jumping phase, and Peter Gray in dressage. Dr. Paul Haefner presented two excellent sessions: "The Science and Art of Teaching and Learning" and "Sports Psychology and Anxiety/Fear." One takeaway was for instructors to recognize when they need to ask for help.
Some thought-provoking quotes from the symposium:
"The slow way is the fast way."
"It is better to upgrade a year too late, than one day too early."
"We speak of risk management rather than safety. Equestrian sport inherently involves risk. What can we do to manage that risk?"
Pony Club Offers Pathway to ICP Certification
It was gratifying to see so many Pony Club members, instructors, and national examiners at the Symposium. The importance of the partnership with the horse and of horse management was discussed throughout, with kudos to Pony Club for providing leadership and education in these areas. The ICP builds on and enhances the experience that Pony Club members gain through their teaching opportunities as they advance through the USPC certification levels. Did you know that USPC offers a tremendous opportunity for Pony Club members and instructors to become ICP certified? The Eleanor Brennan Memorial Fund was established to aid USPC in funding Instructors' Certification Programs for Pony Club instructors and upper-level members through grants for qualified applicants.
This year Pony Club is proud to be sponsoring two upcoming United States Eventing Association (USEA) Instructors' Certification Program workshops for USPC instructors and upper-level members scheduled for summer 2022 in the Midwest with faculty instructor Karen O'Connor. Workshops include Dressage and Jumping Levels I, II, & III to be held June 14-16 and July 11-13, 2022 at Jigsaw Farms in Woodstock, Illinois.
Registration is now open, with a closing date of April 15, 2022. To apply as a candidate instructor or to register to audit this program, click here. To learn about scholarship funds for this program, visit the Opportunities, Grants, & Awards page and read about the Eleanor Brennan Memorial Fund.
To learn more about the USEA Instructors' Certification program visit
https://useventing.com/safety-education/instructors-certification-program