Chloe DeYoung: Teamwork Superstar
Emma Entwistle, DC of South Wind Pony Club in the Midwest Region sent in our final finalist for the 2017 Flash Teamwork Award. She nominated member, Chloe DeYoung (C-2 HM, C-1 Trad) for the award because of the contributions Chloe has made to their club and region.
South Wind Pony Club is barely one year old! To date, we have 28 members ranging from 6 years old to 22 years old. Our club has grown at an exponential speed this year and I am thoroughly grateful for the constant team building, leadership, dedication and passion Chloe DeYoung has repeatedly demonstrated! As such a young club, many of our members are brand new to the entire USPC culture and experience. We decided one of our most important SWPC qualities is creating a kind, compassionate, exciting, and motivating environment for our members, their families and our volunteers. This environment only happens as we develop a constant culture of teamwork. Chloe has been a pivotal part repeatedly over the year as South Wind became a fast family!
Rally Ready?!
South Wind took two full teams to our MWR Mega Rally this past summer. Many of the members had never attended a rally before. Chloe spent several hours working with the members to prepare them thoroughly for their first rally experience. Her presentation gave the teams a sense of understanding and confidence about the rally process. These members became "teams" long before the rally even begun with all the time, energy, and enthusiasm Chloe provided. I watched my own daughter grow substantially this year at rally and I'm confident it is due in part to the preparation Chloe provided.
Team Tack Trunks
Chloe is a gifted example of organization and preparedness. A successful Horse Management program is a valued part of Chloe's own USPC experience. She has attended several rallies and championships as a Stable Manager. Chloe wanted to create trunks that not only supply the required equipment, but our SWPC trunks became a source of pride for our members.
Chloe created a check out and check in system to ensure they are always maintained. She created diagrams posted on the inside of the lids to detail how to properly put the materials back in the trunk. This creates a system for our South Wind members to learn, easily support one another as they help get supplies for each other, and moreover, sets the bar high for our members to prize their Horse Management as they compete at rallies.
Social Media, Flyers, Videos, Slideshows
Chloe maintains the majority of our social media presence. She collects photos from families and always creates an exciting photo-journal of our meetings, clinics, certifications, rallies, and events. I have seen all our families come closer and get excited about SWPC activities as we have so many memories captured and shared. Additionally, Chloe has created several videos, slideshows, and flyers for various activities. In a very short year, I feel like we have branded SWPC as an active, exciting, adventurous club. Chloe has played a large part in this process!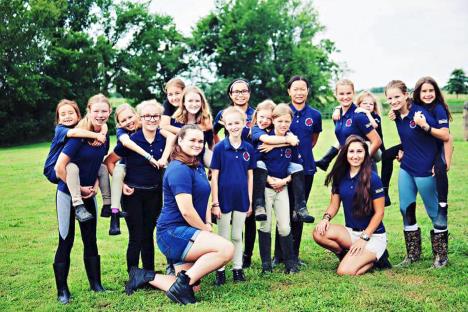 SWPC Summer Camp
Just before the summer of 2017, Chloe asked me if she could organize a summer camp for our members. We had 18 members attend this camp! It was a whopping huge success! Chloe organized everything from professional training, trail rides, mounted games activities, and rally practice to crafts, activities, tie-dye, and a greatly anticipated sleep over at our barn. She even recruited and extended invitations to older members from other regional clubs to join the fun as Camp Counselors. The kids were engaged, challenged, playful and continued to develop their friendships and their sense of South Wind unity as the week progressed. Parents gave me rave reviews about Chloe and the experience. We heard countless giggles and saw plenty of old-fashioned Pony Club forever friendships solidify.
I hope you will strongly consider Chloe as a recipient of the Flash Award. This young lady has a heart of gold, a passion for her new club and all the members, as well as a commitment to helping lay a solid foundation of South Wind Pony Club teamwork for many years to come!