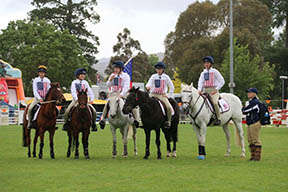 Early in the fall the International Mounted Games team went to Australia to visit and compete representing the United States Pony Clubs, Inc. The following blog posts are recaps from some of the members of the team. Enjoy!
For more information on this or any of the International Exchanges offered in Pony Club, click
IMGE 2016 essay
by Cathie Mcleod
When I was young in Pony Club, I always heard about the cool things you could do if you stuck with it. Right about the time I joined Pony Club, a member of my club was invited to be on the Inter-Pacific Exchange team, and hearing about her adventures on the team always intrigued me. This fall, I was lucky enough to be the team coach in an exchange of my own – the International Mounted Games Exchange, which took place in Melbourne, Australia.
And what an adventure it was. The IMGE is so much more than a competition – it is truly a cultural exchange. And I am sure I speak for the rest of the team when I say that it was an unforgettable, once-in-a-lifetime learning experience. From the day the teams all met, they were comparing the differences between their countries (in USA and Canada, we drive on the right side of the road, in Great Britain and Australia they drive on the left), but were also learning that there are some similarities regardless of where you live in the world (everyone loves McDonald's and playing card games). Our exchange took us to Melbourne and through the surrounding countryside, where we learned that there really are kangaroos everywhere, and the wild birds of Australia are truly the most colorful and beautiful in the world. It was unbelievable to wake up to wild parrots outside your window, which you would only see in a zoo in the USA. And the views from the peaks of Australia's southeastern mountain range, the Grampians, were breathtaking – the best comparison I can make is a cross between the peaks of the Rockies and Hawaii. To top it off, we took a trip Phillip Island, where we saw hundreds of the world's smallest penguin species, the fairy penguin, make their daily march in from the sea to their nests.
We also absorbed the culture by staying with host families, who provided us with wonderful hospitality and gave us glimpse into Australian daily life. To my pleasant surprise, Australians celebrate Halloween just like we do in the USA, and my host family threw a Halloween party that was a blast to attend (in case you're wondering, I dressed up as a velociraptor).
The differences between Pony Club in the USA and Pony Club in Australia were also interesting to learn about. For example, in Australia, Pony Club "rallies" are monthly meetings, similar to what we would consider a clinic or a lesson. A member would have to attend a certain number of rallies to qualify for Pony Club regional shows (what we in the USA would call "rallies"). And championships provides a whole new challenge in Australia, as no one rides their own horse – the hosting province (similar to our regions) provides all the horses and everyone rides a switch horse. Australia is about the size of America – e.g., pretty darn huge – and this practice ensures that riders from all over the country can ride in championships when it is too far to haul a horse.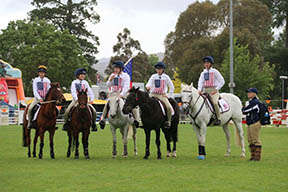 The exchange culminated in a competition at Whittlesea Showgrounds outside of Melbourne. All of the teams rode amazingly well, and I am so proud of the USA team for excellent riding on borrowed ponies and solid third-place finish. But the thing that makes me most proud of the team is their willingness to absorb the Australian culture, their open-mindedness and ability to learn about other countries, and the fact that they made new friends all over the world. By the time our two short weeks were over, we all had made new friendships that will last a lifetime and learned that, despite our wonderful and unique cultural differences, we really are all alike. I would not have been able to participate in the once-in-a-lifetime International Exchange experience without Pony Club, and for that I am very grateful. I am so glad I have been involved with Pony Club through all these years, as calling the Exchange a "cool thing" is an understatement!