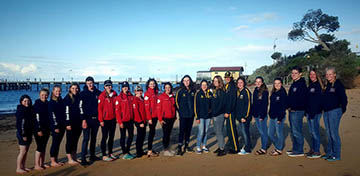 Early in the fall the International Mounted Games team went to Australia to visit and compete representing the United States Pony Clubs, Inc. The following blog posts are recaps from some of the members of the team. Enjoy!
For more information on this or any of the International Exchanges offered in Pony Club, click
International Mounted Games Exchange 2016
By Anne Miller
On October 20, 2016, seven people from different regions in the United States boarded planes to meet up in Los Angeles en route to Melbourne, Australia in order to represent the USPC at the 2016 IMGE. This group was made up of five youth team members, Virginia Carpenter, Aidan Dowd, Olivia Owen, Jaycee Blythe, & Dani Drbal, coach, Cathy McCloud Chiccine and chaperone/manager, Anne Miller. Prior to the exchange the team members and coach met at training camp and all had participated in a fund raising campaign and several conference calls.
First to arrive at LAX was Anne Miller from Western New York. With a notebook filled with travel waivers, itineraries, and more she anxiously awaited the arrival of team members, most of whom she had never met. Jaycee (Eastern PA) was the first to arrive soon followed by Virginia (Virginia), Aidan (Annapolis, MD), Olivia (Nashville, TN), Dani (Lincoln, NE) and Cathie (Kansas City, NE).
The group traveled 16 hours, over the international date line arriving in Melbourne, Australia on Saturday, October 22nd. We were welcomed at the airport by the organizer of the Exchange, Tim Ling and the Australian team coach, Tim Moreton. We were very lucky they both brought Land Cruisers as the United States team had several hundred pounds of luggage. We went on to meet up with the teams from Great Britain and Australia; Canada would arrive on Sunday. We got settled at the YHA in Melbourne.
Sunday, October 23rd, it was breakfast at the YHA then off to Ararat Pony Club for lunch & to meet up with the Canadian team. Our bus took us to Grampians National Park, staying at Halls Gap Brambuck Backpackers. Teams were shuffled for room assignments so as everyone would get to know each other & card teams could be formed!
Monday, October 24th we enjoyed the outdoor activities of abseiling, rock climbing & canoeing. Delicious meals were prepared for us by Ro & Laurie, volunteer chef's from Pony Club Australia.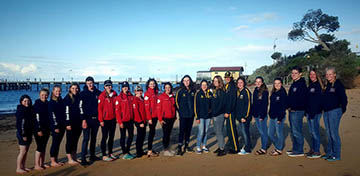 Tuesday, October 25th we hiked all day to the Pinnacles.
Wednesday, October 26th we departed the Grampians traveling back to Melbourne YHA.
Thursday, October 27th & Friday, October 28th were free days to explore the City of Melbourne with trips to the Victoria Market, the Sports Complex & the local Pizza Shop. On Friday we went to the Aquarium, packed & were picked up by eleven host families, setting us off in all different directions to enjoy all types of activities.
Saturday, October 29th was the warm up competition were the teams were scrambled and we had the chance to ride many of the donated ponies that would by used in the actual competition. Fun was had by all and a great barbeque lunch was served. We returned to our host families to enjoy Sunday, October 30th.
On Monday, October 31st we met up with our coach bus to travel to Sheik Mohummed's Thorougbred Stud, Darley at Nagambie. We stopped for lunch at Bank Street Wood Fired Pizza & Garden where we enjoyed gourmet pizza & salads in the herb garden out back. Then it was back to the YHA for card games & homework.
Tuesday, November 1st was spent at Healesville Sanctuary.
Wednesday, November 2nd we went to Philip Island, Nobbies & Cape Woolamai for beach walks followed by Churchill Island, Koala Park and Penguin Parade, one of the longer days, then back to the YHA.
Thursday, November 3rd it was Belgrave – Tree Top Challenge & bird feeding at Grants Picnic Grounds, & back to the YHA to get dressed for the Official Dinner & Dancing on the Yarra River Boat Cruise. Another fun day followed by a later night!
Friday, November 4th after sleeping in, we had a free day to travel back to the Market for last minute souvenirs, team meetings, coach & manager meetings, and early to bed.
Saturday, November 5th was the main competition at Whittlesea Show, a large event in Australia with thousands in attendance. Upon arrival teams got ready, ties, helmets & pinnies, all 20 competitors on the coach bus. The weather was quite cold, especially for Australia, 15 degrees C with light rain. Loaned ponies (23) arrived by 9 am. Games were set up on grass next to the stadium competition where some of the best in the area were jumping 5′ rounds. Lots of excitement all around. The games began promptly at 10 with cheering & clapping, vaulting & smiling. When all was said & done, it was Australia 1st, Great Britain 2nd, USA 3rd, & Canada 4th. There were victory rides & ribbons. The day was finished with a Final Group Dinner at a local restaurant, back to the YHA to sign flags & exchange gifts, pack up & say our good byes. Sunday's departure came early as we hauled all of our USA luggage back to & through the airport to meet up with our flights. There were hugs, some tears & well wishes of see you soon.
Thank you for the opportunity to travel with the 2016 team to the IMGE in Australia. Our USPC youth served as great ambassadors.