Tales of a Pony Club Professional Groom- Work Work Work
Pony Club member Alex Ambelang is back with more life lessons our members learn in Pony Club which help them in the real world. Alex is the head groom for Colleen Rutledge Eventing in Maryland. Follow along as she tells us how Pony Club has prepared her for this position as well as what she has learned since starting out. Alex will be a regular guest blogger, so if you have questions feel free to send them to us for her at Mandy@ponyclub.org.
The Typical Day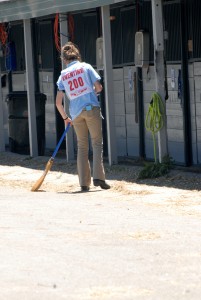 I have have had two pretty different experiences having been based in Aiken, SC for my first three months working for Colleen and now being based at the home farm in Mount Airy, MD. Between all the fun and excitement of cross-country, weekends are the normal days on the job where all the nitty- gritty work gets done.
To start: Aiken.
Colleen and I were based at an older polo facility when in Aiken. We both lived on site and shared the facility with two other professionals. At the height of our stay, I had 14 horses under my care. This made for long, full days, as they relied solely on me for every aspect of their care.
6:00-6:30am- Wake up, get dressed, brush teeth, shoes on and out the door.
6:30am-8:00am or 8:30am- Morning Chores- bring in, turn out, feed grain, check legs,
check shoes, clean stalls.
8:00-9:00am- Breakfast (Tea) and make plan for the day
9:00-9:30am- Prep first horses for rides. Finish cleaning stalls, change or take off
blankets.
9:30am-5:30pm- Rides. As discussed before, the goal is always to get as many horses done as possible. This varies day to day depending upon weather, lost shoes, lessons scheduled, tack issues, vet or farrier visits, and any number of other delays that pop up. The priority horses are the ones that are currently competing and those that are for sale. Babies don't always get done each day. Our schedule is usually centered around what saddles go on which horses. We have two main saddles for dressage (and two for jumping) so we generally just go back and forth between the saddles and horses so the next horse can be fully tacked up and not be dependent on the tack the working horse has on.
4:30pm- Start evening chores- drop grain and bring in horses who were out for the day.
5:30pm- Finish rides and begin blanketing and turnout
6:30pm- Start stall cleaning
7:15pm- Fill waters, fill hay nets, rake
7:45pm- Clean tack
8:15pm- inside for dinner, shower and bed
Eat, sleep, repeat. The Aiken days were where I earned my stripes. Indeed, these were the days that I found the voice that said "keep going" instead of "stop, I can't go on." I was able to get into a rhythm in the 3 months that we spent in Aiken and by the end it was all a pretty simple routine.
Maryland…
Upon our return to Maryland, the routine was no longer my own.
A little known fact is that I only spent a week in Maryland with Colleen, Sallie, and the family before we went to Aiken. This was barely enough time to get to know the horses and the tack before we threw the entire operation into the trailer and headed South. This fact made for an interesting migration back North too. Now, nearly 3 months living in Maryland, this routine is also something I have to think about less. There are a few key differences. One, I do not live on site. My apartment is about 20 minutes away from the farm, which means a bit of driving and more planning ahead. Colleen and I usually have a brief pow-wow each night to discuss the plan for the next day, including any gallops or jump schools that need to be done, any lessons scheduled, and a start time for the morning. I usually try to be at the barn an hour or more ahead of our decided start time, allowing for me to help finish morning chores, which Sallie and our barn help usually have under control, and then to start tacking and checking the horses for shoes, cuts, scrapes, or bumps.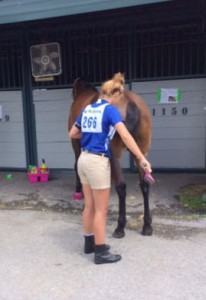 6:00-6:30am- Wake up, get dressed, each breakfast, brush teeth, out the door
7:00am-7:30am- Arrive at barn, help finish chores, start tacking first horses for the day.
8:00 or 8:30am to 4:00 or 5:00pm- Rides. The same issues arise here as they did in Aiken. Each day is an adventure! Colleen teaches lessons in the morning on Mondays so we start later. Tuesdays are busy- its farrier day at the farm and our body work people generally come during the day as well. Wednesdays are pretty straight forward, Thursdays are generally shorter. Fridays are spent prepping for weekend shows. We are at shows most weekends and Monday we start all over again.
5:00pm- start chores- drop grain, bring in day horses, blanket accordingly.
6:00pm- start turnout for the night, throw hay, replace empty hay nets in barn
6:45pm- clean tack, clean up barn (rake, wash boots, tidy up)
7:00-7:30pm- Drive home.
As they say, hindsight is 20/20, and as I look back on our months in Aiken, I am not entirely certain how we (I) survived! Having people to help with the day-to-day things like feeding and mucking makes for shorter days and lessens the stress a bit. This allows us to maximize our time for riding allowing us to get more horses worked which translates into better results down the line. I can't choose between the two places , there are aspects of each set-up that I like and dislike but both work and have produced good results thus far. It is here again that I run into the issue of not being prepared to work at pace with this amount of horses. Pony Club had prepared me to create effective schedules for one or two horses, not 10+. The system was already established when I came to work for Colleen, but it was still a matter of learning the system and how to make it work best and flow for each day. Its still an art form I feel I will never quite master but I continue to try none-the less. On days that it seems nothing goes according to plan and I feel perpetually behind, I am reminded of the unexpected nature of this sport and horses in general and realize it is quite the miracle anything gets done at all! But no matter how things end each day, it seems we are always up to fight another. Keep going. Eat, sleep, repeat.
Alex Ambelang is an H-A Traditional member of Five Valleys Pony Club in the Big Sky Region. She joined Pony Club at the age of 8 and has been an active member ever since. She has competed in Eventing through Preliminary and in jumpers and dressage. Alex has been a working student for two National Examiners and was a member of the USPC National Youth Congress in 2010. She served as a member of the USPC National Youth Board from 2012 to 2014 and is part of the USPC Visiting Instructor Program as well as the Regional Instructor Coordinator for the Big Sky Region. She received her Bachelor of Arts in Cultural and Medical Anthropology in December of 2014 and is currently working as head girl for Colleen Rutledge Eventing in Maryland.