Warming Up the Older Horse
When getting your horse ready for a show you do conditioning work. You have regular flat days, jumping days, bath days, and rest days. You also have a plan on how to warm your horse up at shows. If it is a new horse to you, you create a new plan. If it is a seasoned competitor, you know the horse has a set routine. The best idea is trial and error. Whatever works for you, may not necessarily be the best for your horse, and vice-versa. Each horse is different. Factors to take into consideration include age, temperament, difficulty level, and discipline. Today we will focus on some ideas for warming up the older horse.


In most cases an older horse means a show seasoned horse. It is rare that people show a horse for the first time at an older age, but that doesn't mean it doesn't happen. In any case you should give your horse the warm up he deserves to best prepare both of you for the ring. Research has shown horses that have reached their late teens (17+), who still show, have different metabolic needs than their younger counterparts. They can still do most of the same work, but with more emphasis on walking and preparation than schooling. It takes older, stiff muscles longer to loosen up. This means you should allow ample time for your horse to stretch his legs in the beginning of your warm up ride. A good idea would be to focus on stretching his back and helping him become more supple along his topline. Asking him to walk more forward and then collect as well as walk in a loose, free frame will help to stretch his topline. Once the rider starts to trot, continuing that stretch work is a good way to help the horse relax and swing his back.
Keeping an older horse fit is something of a learning process. Some breeds of horse maintain fitness, even at an older age, however their riders should be conscientious of how the horse seems to be handling the work. It is important to work with a good trainer to set up a fitness schedule appropriate for the horse you own or ride. It usually takes a horse about 10-15 minutes to get relaxed through their body enough to settle down to work. Sometimes it can take an older horse twice as long. That being said, older horses don't need to work as long to teach them something new, the hope being they already have a good foundation from years of training and showing. Their rider can focus on themselves more than the training of the horse. It is also important to offer an older horse breaks from their exercise. This allows them to catch their breath and rest, but just as importantly lets them settle their mind so they can remain interested in their work.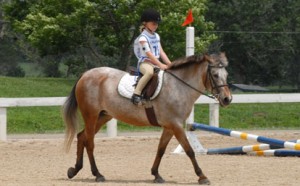 It is key to remember that older horses have many benefits. Most of the time they have "been around the block" enough times they know routine. Lots of older horses have quirks and tricks to their training which can take some time to understand, but teach their riders how to ride better, stronger, and with more finesse. While any animal requires extra care as they get older they can be an invaluable learning tool to a young rider who wants to move up the ranks in any discipline.