USPC would like to highlight the National Youth Board Members for the current term. Today we meet Area 2 member KC van Solinge.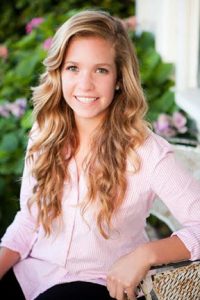 KC van Solinge is a B Traditional member from the Camino Real Region. K C was born and raised on the beautiful central coast of California in the city of Santa Maria where she joined the Santa Ynez Valley Pony Club at the age of 8. She has been very active in Pony Club for the past 12 years competing in 3 different Championships and representing the USPC in the 2015 Inter-Pacific Exchange Team last summer. KC was a member of the National Youth Congress in 2014 and is now serving her second year on the National Youth Board.
KC is currently going into her fourth year at California State University, Fresno studying Animal Science with a Pre-Vet emphasis. She plans to continue on to Veterinary school next fall. In her spare time, she enjoys riding her 7-year-old Irish Sport Horse McKinsey and giving riding lessons to younger Pony Club members.