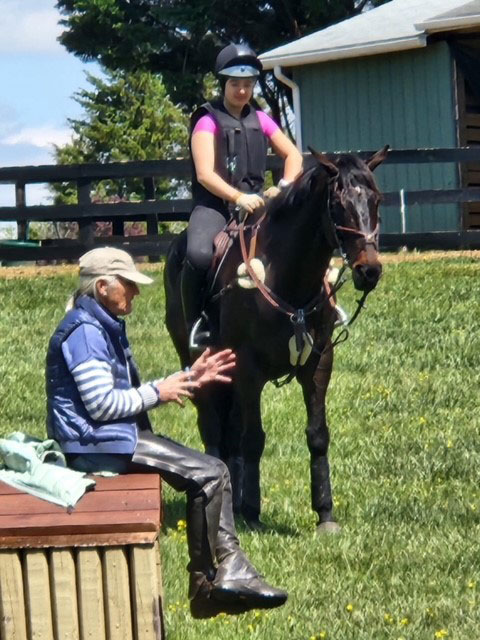 What It Means to Have a Village Behind You in Pony Club
By Mia Valdez, Mountain Skyline Pony Club
This is the essay Mia Valdez, H-B HM, C-3 EV, of Mountain Skyline Pony Club, submitted about what having a village behind you means as an equestrian when she applied for the Ann Haller Media Internship. Mia was chosen as the 2023 Ann Haller media intern. Read about her experience here.
My name is Mia Valdez. I am 15 years old, and have been incredibly blessed throughout my equestrian career with the proverbial village needed to make my equitation endeavors possible. I will use my personal experience to demonstrate that even with limited resources, it is possible to enjoy equestrian life as long as you have a community of supportive people helping you.
I started riding after my mother introduced me through a summer camp at a local riding program. From these first days of riding, I have enjoyed an unbelievably supportive community. My first trainer provided me with a working student opportunity that allowed me to earn an extra lesson each week, and I was able to assist with camp activities that not only taught me safety and horse care, but also provided me additional lessons.
My family and I live in a very rural area and often in the evenings, my trainer provided transportation if my parents were unavailable because of work or obligations with my siblings. My trainer allowed me to come along to barrel racing competitions and provided me with so many opportunities to expand my equestrian horizons! I was introduced to Foxhunting, which is now one of my favorite equine activities.
Throughout my entire equestrian experience, I have been incredibly fortunate to have people in my corner that provided me: horses to ride, transportation when my parents were unable to drive me, and opportunities to raise funds to pay for the expensive sport I fell in love with. My family is far from wealthy and often people wonder how I am able to participate in some of the events that I attend. My parents have made it a priority to support me, but I also have the proverbial village on my side.
Be it our hunt club master taking me to New York to give an acceptance speech for the [Masters of Foxhunting Association Foundation's Hunting Habitat Conservation Award] or a fellow hunt club member driving me to my lessons when my mother is out of state for work, I have enjoyed so many unbelievable acts of kindness and support that allowed me to flourish as a rider.
Now, as I recognize how supported I have been, I also work very hard to make sure that I provide opportunities to my fellow equestrian friends. I have loaned my pony to numerous riders to experience Foxhunting and always offer a trailer spot that is available to share my resources with others.
Often, I marvel at how incredibly lucky I have been to have been provided horses to compete at the Rolex Arena in Kentucky, schoolmasters to lesson on, care leases to continue growing, and hunting opportunities at the most pristine of facilities. I wonder if I am just so fortunate or if there is truly an inherent good in humans! Either way, paying the good I have received forward is always high on my priority list and simply the right thing to do! We all have to be part of the village.