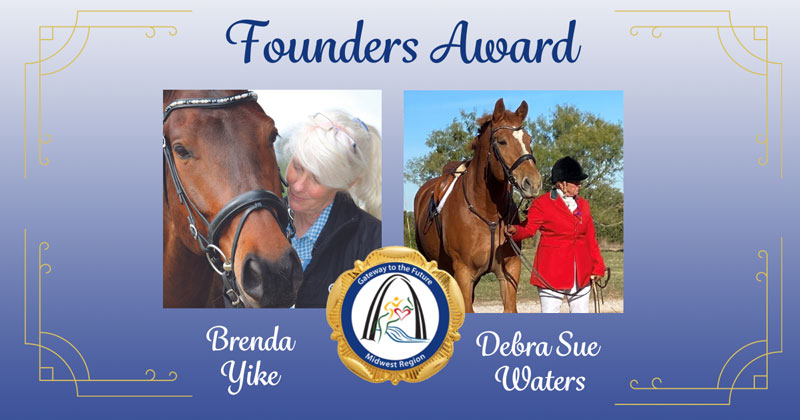 2022 USPC Founders Awards to be Presented at the 2023 USPC Convention
Two individuals will be awarded the Founders Award during the 2023 USPC Convention, Sponsored by Stephens College, and Supported by Via Nova Training. This honor is reserved for our most worthy volunteers. The prestigious Founders Award is given each year to one or more people who have made a significant contribution to Pony Club at the local or regional and national levels over a period of 20 years or more. Pony Club is proud to introduce the recipients of the Founders Award to be presented in St. Louis, Mo., on January 21, 2023. Meet these two dedicated longtime volunteers and learn about all that they have accomplished for Pony Club.
Debra Sue Waters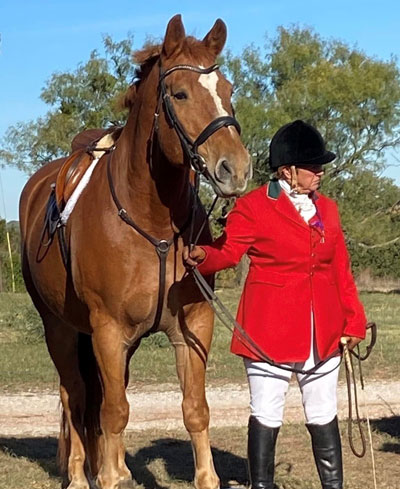 My earliest memories involve horses. My grandfather bought us a pony, Stockings, when I was 3 years old, and I can still remember him taking me out to the barn to meet her. In the sixth grade, my family moved up the road from Patchwork Farm in Birmingham, Ala., the home of Cahaba Pony Club and the Cahaba Horse Trials. I sold my western saddle, asked for a jumping saddle for Christmas, joined Pony Club, and the rest is history.
I graduated from Auburn University with a degree in interior design, but my love was always horses. My dad used to joke that my horses probably got a better college education than I did. While sitting at a drafting table watching the sun go down one evening, I realized I was working at a job, but my heart was at the barn. At the time, there were no instructor certification programs in the United States, so I made the decision to go to The Talland International School of Equitation in England to complete the certifications leading to the British Horse Society Assistant Instructors (BHSAI) certification. After completing the certifications, I was asked to move back to the U.S. to run the British Horse Society preparation program at Talland II, a Talland-affiliated stable in Burleson, Texas.
It used to bother me that at home in the Red River Region, I am known as "the Pony Club lady." After all, I do more than just Pony Club. I've since learned to embrace the title as I realize just how much Pony Club has influenced my life, as a member, volunteer, and a parent. While I "aged out" as a C due to a horse that would rather dance in a 20 x 60 arena than jump around a course at the "B," I continued to volunteer with Pony Club. I literally volunteered my way across the country. While in college at Auburn, I worked with Midland Pony Club in Georgia and helped Betty Brewer start the first club in the Auburn area. I worked with Plantation's Pride Pony Club while teaching riding at a private school in Louisiana, and finally moved to Red River Region in Texas.
I've been the club instructor and district commissioner for Fort Worth Pony Club (now Texas Outlaws), and regional instruction coordinator for the region. Since 1991, I have been honored to be a national examiner, teaching, and testing with some of the most exceptional people in the horse industry. I've served on and chaired numerous national committees through the years. My two daughters, Amanda (an A graduate) and Ashton (H-B), are both still actively involved with horses and Pony Club. Some of my closest friendships were cultivated through Pony Club. Pony Club is not just an organization—to me, it's a large extended family.
Brenda Yike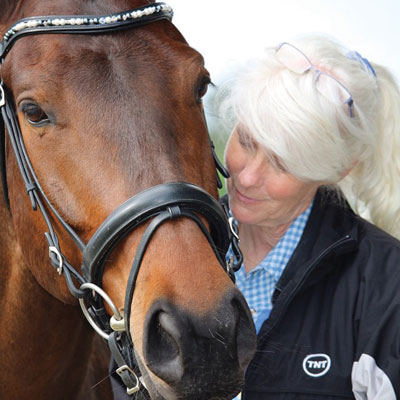 Provided by Brenda Yike's sister, Stacy Yike: Brenda loved horses all of her life. While living in South Carolina, she rode her bike to the local barn and mucked stalls to earn lessons. That early passion forged the path for life in Ohio. The family bought five acres with a barn, met Jack Craig, found Pepsi, and joined Bath Pony Club. Within a year, there was a horse for Mom, Dad was elected treasurer, and Stacy had a pony. Thus began the Yike USPC story.
Brenda loved competing and excelled at cross-country. She came up through the ranks quickly and anchored the winning Bath "B" team for USPC Nationals at Lake Placid in 1975. But Pony Club did not end there for Brenda. She was a vital component in setting up Pine Trace Pony Club in LaGrange, Ga., coaching all manner of kids and parents on what made the "Pony Club way" worthwhile. She was soon coaching all over the South and the Carolina regions and found her sweet spot in Horse Management (HM). Nothing spoke to her like the one-on-one conversations she had with kids on "WHY"… why you can't have nails in the stall, why you don't turn back a dirty horse, and why you need the pin placed exactly right in your stock tie. Brenda was thrilled to be asked to join the national Horse Management Committee. She could see the struggles at the national level in consistently implementing HM and knew she could make it better.
Brenda believed deeply in supporting our youth, but she truly enjoyed teaching all of us to be better people. That really was her forte—bringing others along. She experienced firsthand how the bond between horse and rider developed a person's sense of how to be a better human. And while she loved cross-country more than life itself, she knew those important bonds formed in the barn. In the quiet moments of caring for another—listening, observing, and then taking action to ensure health, safety, and happiness for the horse you love.
She carried these beliefs and skills forward into all aspects of her life, even the non-horse people. She listened and observed, both the spoken and unspoken messages—of customers, of colleagues, of friends, of family. She always came in with a smile and a kind word. She listened, and she gave of herself to make life easier for those around her. And she always sprinkled joy and fun into every experience, maybe as a reminder of what it feels like to soar.
Brenda's investment in Pony Club was monumental. USPC literally ran through her veins. She devoted hours and hours to the youth, and she did the same for adult volunteers. She demonstrated a strong work ethic and did it all while having fun. People were impressed by her experience but charmed by the twinkle in her eye. The best way to honor her is to carry on as she would. She saw the difference that USPC made for many and invested herself in continuing that magic. Let's do the same.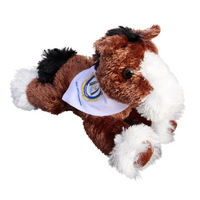 Click here to learn more about the Founders Award and other volunteer recognition. Founders Award nominations are due July 1 each year, and the award is presented during the Saturday night banquet at the USPC Convention.