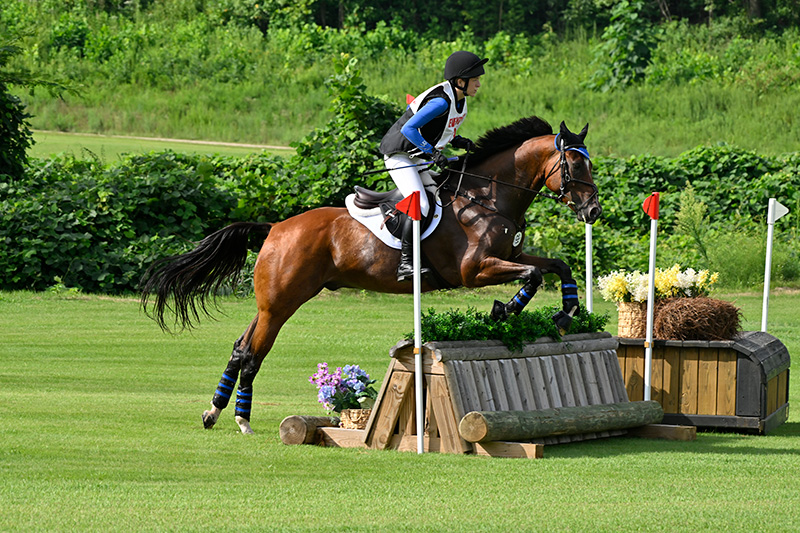 Member Spotlight: Marissa R.
Age: 17
Club/Region: Desert Hooves Pony Club/Southwest Region
Years in Pony Club: 2
Current certification (and/or certification currently working on): C-1 HM, C-1 EV
What disciplines and/or activities are you involved in?
Eventing, Dressage, Show Jumping, Horse Management, Quiz
Tell us about your current mount(s) and what you do with them:
Boots is his barn name. He is a 7-year-old American Quarter Horse that I purchased a year ago. He came from a ranch in Colorado where he had his basic training and had done a little cattle herding. Boots and I have spent the last year building his foundation on the flat and increasing his balance and confidence.
We both love Eventing. We completed our first Intro-level horse trials in November of 2021 and competed Beginner Novice at the Tucson Southern Arizona Eventing Association Horse Trials, March 12-13, 2022, which is also a region-qualifying rally.
In our daily/weekly training, we focus on flat work/dressage with one or two days of jumping. Building his endurance, balance, and response to the aids are one of our main goals right now.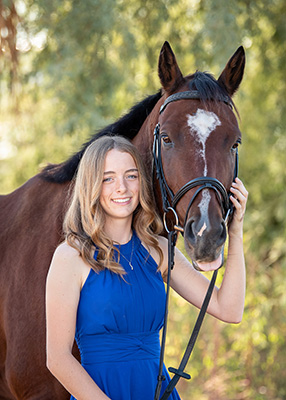 Tell us about your goals (with Pony Club, with riding, and life):
My goals with Pony Club are to receive my certification all the way to A level. I love riding, and I am at the barn daily. I am currently a homeschooled high school student taking dual enrollment classes in college, and I work at the barn that I board at. My goals are to receive my C-2 certification and qualify in Eventing for USPC Championships West. I am also participating in our regions qualifying show jumping rally and quiz rally. I plan to attend additional horse trials in my surrounding area, as well.
Long-term goals, in addition to continuing my learning and certification levels with Pony Club, include receiving a bachelor's in business. I want to continue my training under advanced riders and progress in the equestrian world as a top-level eventer. In addition to training horses, I also want to coach and train fellow riders.
I have been blessed to be taught by amazing coaches. I want to be able to give that knowledge back to others. Pony Club teaches the best, most solid foundation of horse management and horsemanship. I already love to give back to new members that join our club, teaching them required horse management knowledge during our club's unmounted meetings. I see riding, teaching, and training in every aspect of my future. I am also very excited since Boots is only seven years old to see where our future goes together. I see amazing things.
What is your favorite thing about Pony Club?
I love the teamwork required and the team camaraderie that develops during our club activities. Also, I enjoy seeing what I learn in Horse Management—whether that be at one of our meetings or while studying the Horse Management book—translate into my daily life caring for Boots and training him or helping others when they experience something unfamiliar with their horse. Because of Pony Club and the knowledge that I have gained, I have been able to spot colic while I was working at the barn, apply leg wraps to other horses as needed, and assist experienced owners with proper care and grooming.
What is one thing you would tell younger members first joining Pony Club?
At first it feels like a lot of information, and I know you just want to ride your pony. However, all the information you will gain in horsemanship will allow you to enjoy your pony and all your rides for a much longer time. Riding a horse, caring for a horse, whether you are just taking lessons, leasing, or owning are all improved when you have the proper horse management knowledge. Knowing your mount and forming a relationship on the ground makes your ride under saddle that much better, for you and your mount. It is truly about a partnership.
What is your favorite way to prep for a Horse Management certification?
I first print out all the certification tests, study guides, and Standard of Proficiency. I go through each section finding information in the Horse Management study books, rulebooks, and flashcards. I then get together with other members of the club and we all discuss questions and answers.
If you could try out any other discipline or activity, what would it be and why?
That is a tough question. I love Eventing so much. I love being able to perform in Dressage, and then move onto Show Jumping and Cross Country. I think it would be fun to try Polocrosse or Mounted Games. It would provide a different experience and enable me to see what other talents Boots might hold.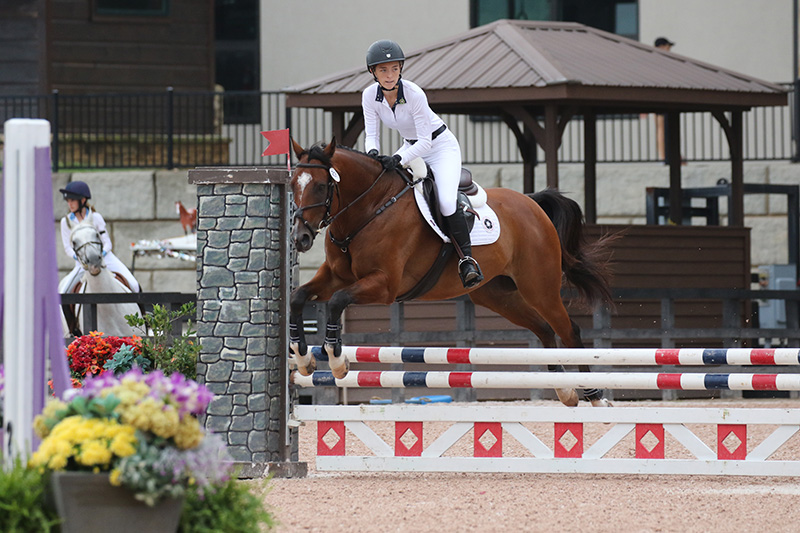 Favorite Pony Club memory:
There are many. My first year in Pony Club was spent with a leased horse, Bandit. I did my first rally on Bandit. He was an amazing horse and gave so much effort. Bandit taught me so much, and I am grateful for the opportunity to have leased him. I think that memory and that experience is what officially got me hooked, and I knew I wanted to continue my journey in Pony Club, receive all certification levels, and be able to give back to others with and through Pony Club.
What makes you #PonyClubProud?
Knowing I can go to any show, event, schooling show, clinic, or a normal day at the barn and be prepared for whatever will happen. If there is anything predictable about equines and equine activities, it is that is can be unpredictable. We are working with an animal with a mind of his own. You never know what can happen. Pony Club has taught me the important skills of being prepared and what items are always good to have.
Is there anything else you would like to tell us?
While my first year of joining Pony Club was met with craziness in the world (we all remember 2020), I learned so much. I mentioned the lease horse I had, Bandit. After a few months of leasing Bandit, I purchased an off-track Thorougbred (OTTB) from my trainer. He was very green, and I was also. The next year was a tough one with that horse. He ended up not being the right horse for me. But Pony Club gave me the knowledge and confidence to see that I needed to sell him, purchase another horse, and find a new trainer. I needed to find what was right for me and my journey.
Pony Club has taught me that it is not about just getting over the fences, it is about foundation, it is about a relationship with your mount, and it is about knowing what direction is best for you and your mount. Without the knowledge I gained from studying Pony Club Horse Management, I am not sure I would have seen that the issue with my first purchased horse was a lack of foundational skills on the flat.
Now I have Boots, and we have a beautiful relationship of trust. I don't just go to the barn to work him. I go to the barn to be with him, to listen to him, and not every day includes work. I am his caregiver. He trusts me, so when we are riding, he knows I will listen to him, I will be there for him, I will give him what he needs to be successful no matter what we are facing. And I know he will always give me his best and try his hardest.
Want to be featured in a future Member Spotlight? Fill out the form here.