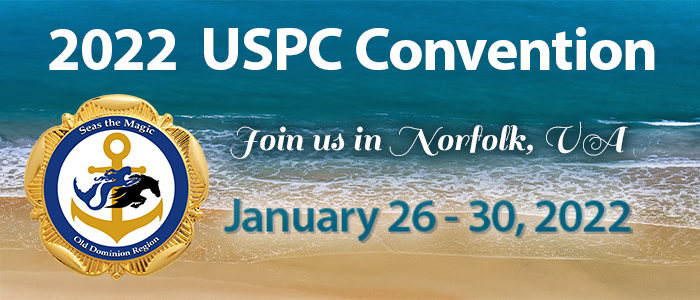 Save These Dates for the 2022 USPC Convention
After ringing in the New Year (hello, 2022!) and celebrating Thoroughbred birthdays on January 1, Pony Club has some other important dates coming up in the month of January. As we count down to the 2022 USPC Convention on January 26-30, there are a few important deadlines to remember before we see you in Norfolk, Virginia.
January 3: Hotel Reservations Deadline
USPC group room rates are available at the host hotel for the 2022 USPC Convention. Use the Lodging link to book your room at the Norfolk Waterside Marriott on or before January 3, 2022, to get the special USPC rate. You'll be right where all the convention activities are taking place, staying in a prime location to explore the city's downtown district and attractions.
January 5 at noon ET: Regular Registration & Ticketed Events Deadline
Regular registration is open through noon ET, January 5. You'll also need to reserve a ticket by that date for any of the evening events you plan to attend so that you don't miss out on any of the fun celebrations in store.
Purchase event function meal tickets online by Jan. 5 at noon ET for the following:
Leadership Appreciation Reception
Club, center, and regional leadership can socialize over casual food and drinks on Thursday night while enjoying the musical stylings of Sinatra-inspired entertainer Frank Sings Frank.
National Youth Congress & Academy of Achievement Honors Reception
On Friday night, USPC celebrates the 2022 National Youth Congress participants and Academy of Achievement honorees.
Saturday Night Banquet
Enjoy an evening of dinner and dancing Saturday night with USPC. For children under 12, tickets to the Pony Paddock Pizza Party can be purchased as an alternative.
Register for Convention and purchase tickets here: https://pheedloop.com/2022convention/site/registration/
January 8: Research Project Fair Entry Deadline
Pony Club's popular Research Project Fair is back! Presented by Grayson-Jockey Club Research Foundation and supported by Kentucky Equine Research, members of all ages and certification levels can participate online or virtually.
Learn more and find the online application here: https://pheedloop.com/2022convention/site/RPF/
Register and Win Prizes
The 2022 USPC Convention's hosting region, Old Dominion, is offering a raffle and scavenger hunt with fabulous prizes. Earn tickets by completing tasks at Convention, starting with registering for the event. The more tickets you gather the more chances you have to win prizes like a One K Helmet, Tech or Acavallo stirrups, an Ecogold saddle pad, an autographed copy of Daniel Stewart's new book Bolder, Braver Brighter, and more. (Details are available here.) The prize drawing will be held at the Saturday night banquet. Click here to get started and register for the 2022 USPC Convention.
See you soon in the City of Mermaids!