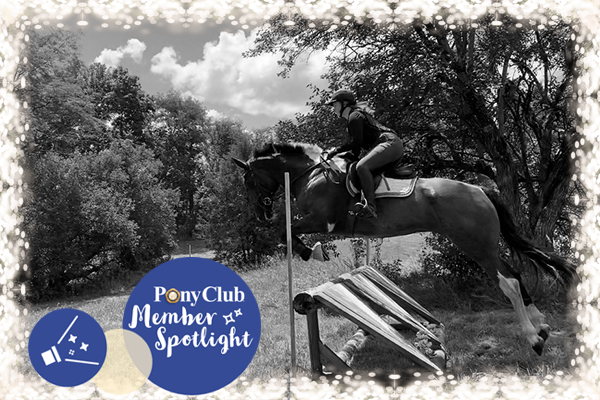 Pony Club Member Spotlight: Savannah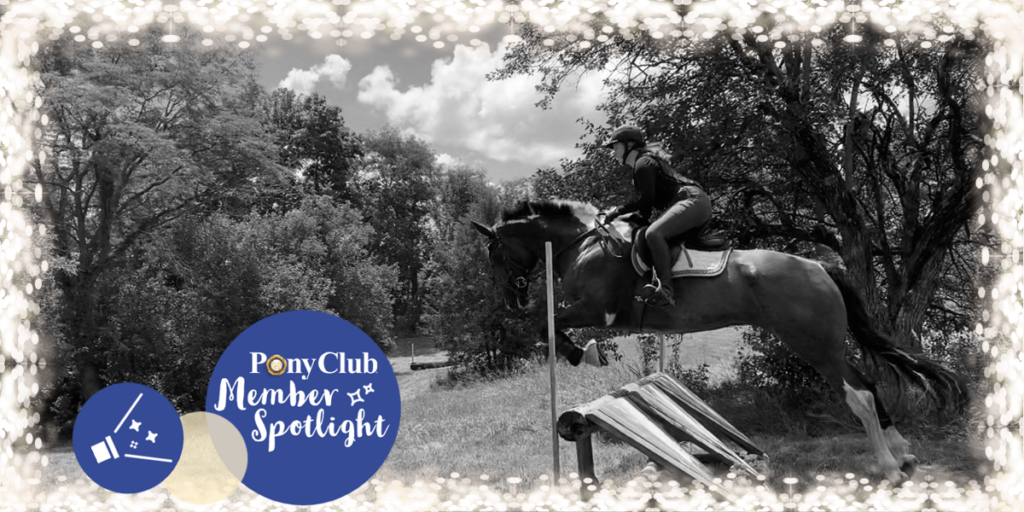 Meet Pony Club Member Savannah!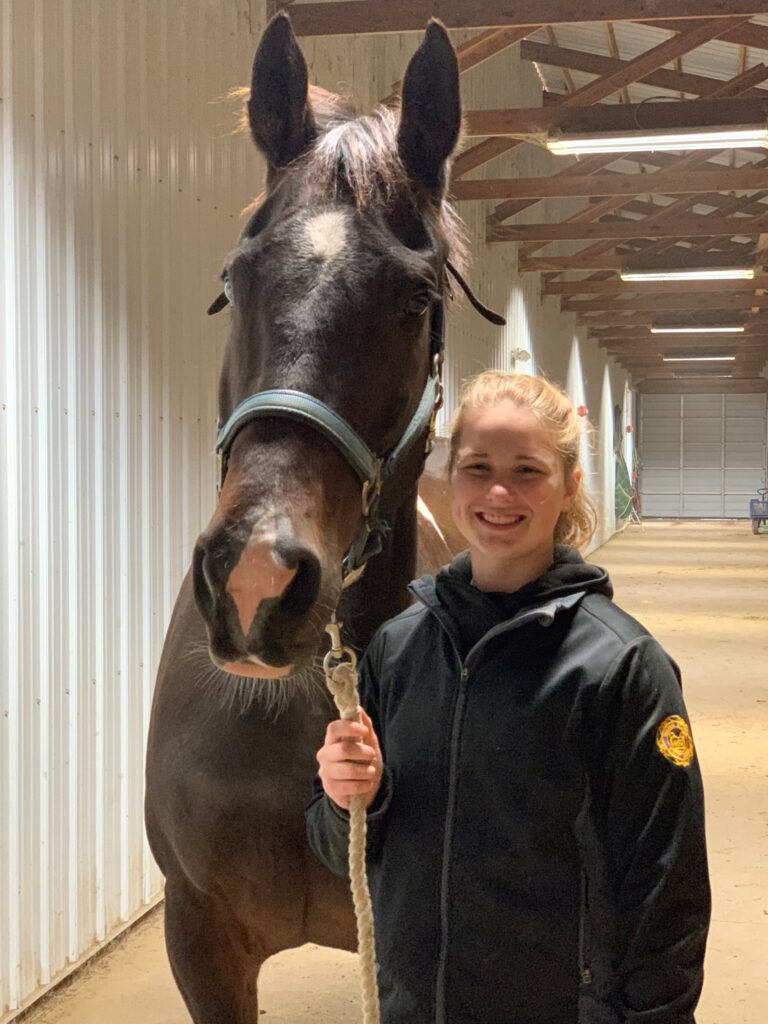 Name: Savannah
Club: Quad Cities Pony Club
Region: North Central Prairie Region
Years in Pony Club: 7 Years
Disciplines & Activities: Eventing
Current Certification (and/or certification currently working on): C-2 HM, working towards C-2 flat and jumping!
Tell us about your current mount(s) and what you do with them:
My horse, Bruce, is a big, goofy thoroughbred/draft cross. He is blind in one eye, but jumping is his favorite thing in the whole world and he absolutely does not let anything get in his way on the XC field or in an arena. We currently event at the novice level, mostly at smaller schooling shows in the area.
Tell us about your goals (with Pony Club, with riding, life):
I play the bassoon in my local youth symphony, and some of my biggest goals involve that; I'm hoping to pursue it as a career after high school! I've made All-State three times so far in high school, and I am working towards becoming a four time All-Stater. As for riding, I'm currently working towards getting my C-2 riding certification over the summer, and I'm also a junior in high school, so doing well in school and preparing for college are definitely on my mind. I'm in National Honors Society and I am taking some college courses through my school.
What is your favorite thing about Pony Club?
My favorite thing about Pony Club is the opportunity to share your love for horses with other people and help them grow in their riding journey.
What is one thing you would tell younger members first joining Pony Club?
I would tell them that it's ok to not know the answer to everything! That's exactly why you're here — to learn.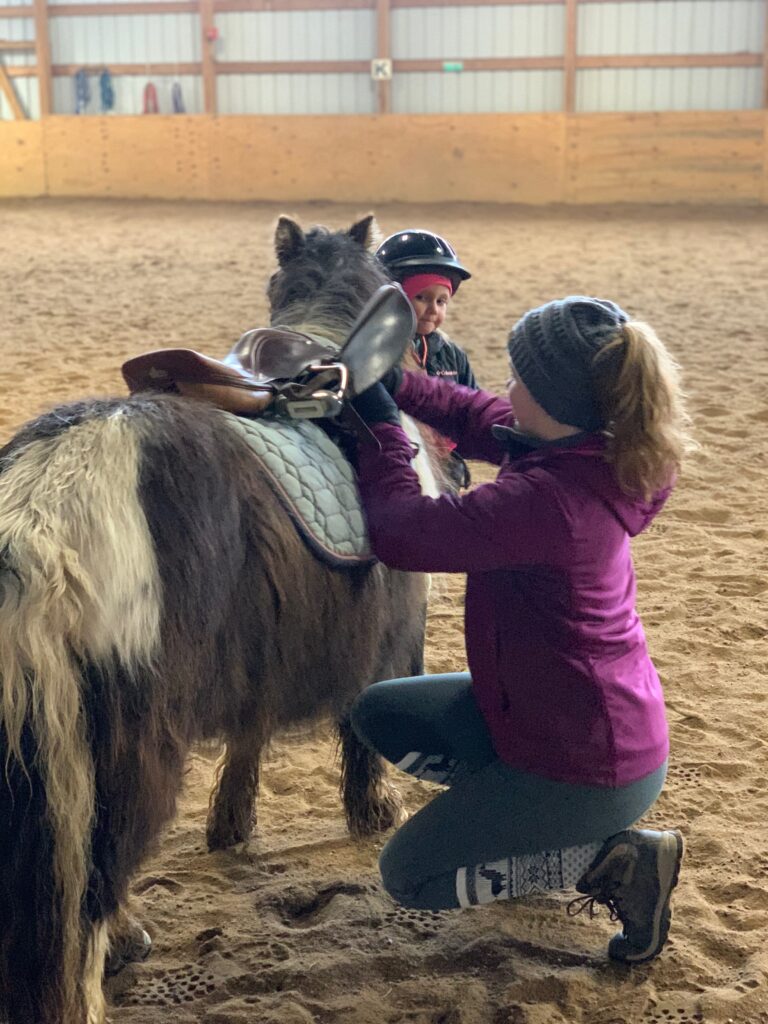 What is your favorite way to prep for an HM certification?
My favorite way to prepare for an HM certification is to write out an answer to every single question on the test sheet in a notebook. That way, I can filter through and organize all of the information I've ingested that is just floating around in my head into a concise, relevant answer. Then, I feel very prepared to answer any question that may come my way!
If you could try out any other discipline or activity, what would it be and why?
I would love to try Foxhunting! It looks super fun and I think my horse would love it.
Favorite Pony Club memory:
I have more amazing Pony Club memories than I could possibly count, but if I had to pick just one favorite, it would be the time my entire Pony Club packed up our horses, took a trip to a campground, and spent a couple days trail riding and hanging out. We had so much fun exploring the area, and we had plenty of late-night adventures (with and without horses). The comradery and friendships that came with that trip will be cherished forever.
What makes you #PonyClubProud?
I am #PonyClubProud when I see younger members in my club put their all into their riding and horsemanship and see amazing results. Nothing makes me happier than seeing them take knowledge they gain through Pony Club and apply it to become better riders and to provide better care to their horses. It also makes me proud when I see younger members fostering friendships and learning together with other Pony Club members, just like I did when I was their age.
Is there anything else you would like to tell us?
I would just like to say that Pony Club, more than anything else in my life, has taught me how to work hard, collaborate well with a team, have patience, and respond to adversity by growing and becoming better. I know that I would not be the person I am today without Pony Club.
Would you like to be featured in a Member Spotlight?
Please complete this form for consideration to be featured in our Member Spotlight.
We will contact you for additional follow up if selected.