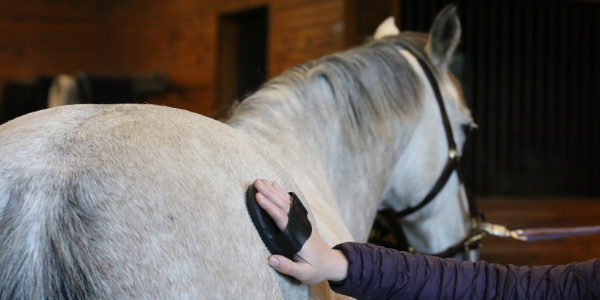 Horse Grooming Tips for Spring Shedding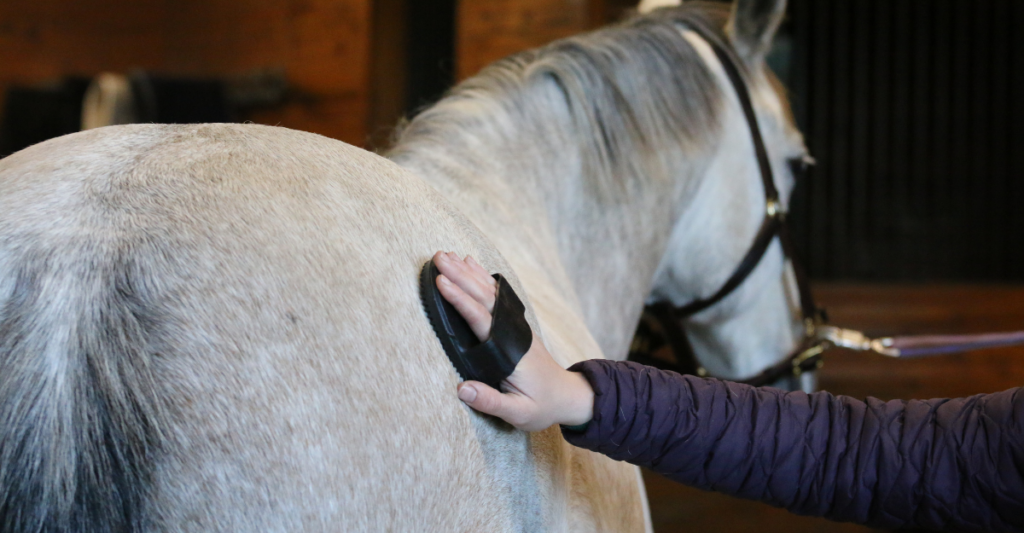 By Cat Hill, World Class Grooming
Brought to you by Shapley's Grooming Products, Official Grooming Product Sponsor of Pony Club
You go out to the barn on a cold day, start to curry your woolly beast, and then you see it. Hair. Loose, long, hair. Drifting everywhere you've touched, clinging to your cuffs, your nose, your brush. Shedding season is upon us. Here are a few tips on how to survive the transition with minimal frustration.
Curry First
The first step to survival is a good, long fingered rubber curry comb. Rub in vigorous circles all over the horse's body to help release the hair from the roots. Follow that with a shedding blade or rake. If you have a very sensitive horse, or live in the South where the horse's winter coat isn't as thick, you can use a short-toothed hard rubber curry instead and simply use it to brush in long straight lines.
Add Moisture
I then like to use a conditioning oil such as Shapley's No. 1 Light Oil over the whole coat. I put it in a spray bottle and lightly spritz it over the entire coat. This time of year I have a medium-bristle brush that I call my "sacrifice brush." I know it's going to get disgusting and filled with hair, so I only use it for this job. After I spray the oil, I brush it in with my sacrifice brush. You really have to put some muscle into the final brush, because you want the oil to penetrate down through the coat. The oil not only moisturizes the skin and coat, making your horse less itchy, but it has the extra benefit of making the hair less staticky and easier to remove from your skin and clothes.
Clip for Spring Comfort
If your horse has been off all winter and you've just started to ride again, we often get the question of "Isn't it too late to clip?" My answer is always, it depends! The horse's comfort must always take precedence, so if you are riding and your horse is regularly getting very sweaty ad taking a long time to dry, you would be better off clipping it. If the horse is comfortable and you just hate the shedding hair, sorry but you're better off leaving it on.
When clipping late in the year, use a longer blade than you ordinarily would in a winter clip to make sure you'll get a great summer coat. I like to use no shorter than a #10 (1.6mm) blade. My favorite set-up for clips this time of year is an Andis Show Edge coarse blade. This cuts at 3.9mm and won't cut the tips of the new coat coming in at all.
Before clipping, I like to vacuum the horse or bathe him with a gentle, deep-cleaning and clarifying shampoo such as Shapley's Hi Shine Shampoo to remove any skin-level dirt and grime. After clipping, I the curry the horse really well and brush the loose hair off with a long bristled brush. Finally, I mix a small amount of Shapley's No. 1 Light Oil with very hot water, dip a towel in the mix, swish it around, and then rub the horse all over in big circles. This leaves a nice shine to the coat while also picking up any little stabby bits of cut hair and getting them away from the skin. You can also wipe the grooming oil on horse's body with a towel and then blanket for an equine "hot oil treatment," deep-conditioning the horse's skin and hair for a super shiny look.
Cat Hill is a professional equine groom, clinician and co-author of the best-selling book, World Class Grooming.
---
About Shapley's — Official USPC Grooming Product Sponsor
Shapley's has been producing superior equine grooming products for over 85 years, and top riders and horsemen trust Shapley's for their horse's health and shine. Learn more at Shapleys.com
---
A version of this article originally appeared in Pony Club News.