The United States Pony Clubs, Inc. is hosting a Plus 1 Challenge for the 2015/2016 years. The Plus 1 Challenge was created to encourage members to stay in Pony Club and to improve recruitment of new members. Making growth a priority will benefit everyone in your club or center and increase a base of parents and volunteers willing to share in the duties needed to run a successful club or center. Membership for 2015 is tallied from September 1st, 2014 through August 31, 2015. The region with the largest increase in membership during 2015 will receive a $1,500 grant towards a Horse Management Clinic/Activity of their choice. The top 10 clubs and centers gaining the most members will receive $100 to be used for an item/activity of their choice.
Elkridge-Harford Hunt Pony Club has gained ten new members since the inception of the Plus One Challenge and are currently ranked in the top 10 highest growing clubs or centers participating in the challenge. Recently, Lani Hyde, DC of Elkridge-Harford Hunt Pony Club was interviewed on their clubs approach to the challenge.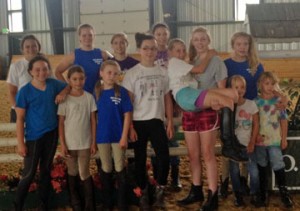 Lani stated "We were already motivated to gain members. We had a few members age out, and we are always looking for new members. We put together a tri-fold poster from the National Office and took it to horse shows/fundraisers. We handed out packets to those interested at events we attended. Christine Reter, our membership coordinator was instrumental in helping with promoting new members. To get new members to feel welcome and involved, we have active parents that help new people join in. Our local horse community is very active, our club is tied with hunt club.
The leadership of Elkridge-Harford keeps a few attributes in mind when promoting Pony Club membership. We try to emphasize how USPC participates in different disciplines, "We have something for everyone". Our club tries to provide as many disciplines as we can. We hold camps. We make sure members stay involved. We encourage the older kids to help out. We have club field trips and lessons."
Elkridge-Harford Hunt Pony Club wants you to follow in their footsteps to help your club or center to become the best For more information on the USPC Plus 1 Challenge click HERE!