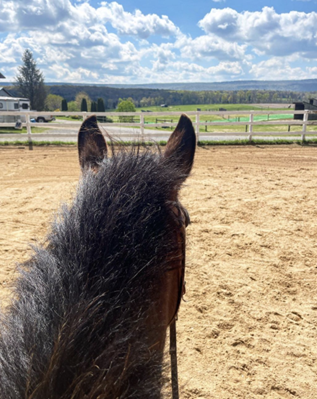 Keeping Curiosity in the Learning Process
By Gillian Warner
I've always felt drawn to working with young horses, and when I started my business a few years ago, I decided to focus my attention on bringing along and starting horses. I've been lucky enough to have been surrounded by mentors through the years that have guided me to better understand the process of starting to work with a horse, from groundwork to the first ride to developing a horse over fences or at a first show. In addition, I have had an education from mentors and organizations, such as Pony Club, to help me understand horse behavior and interactions.
Young horses have a natural curiosity that can be extraordinarily fun to work with; it encourages exploration and adventure, which I've found as an incredible tool to use in the learning process for bringing a horse along. When horses ask questions and want to understand, the educational opportunity for the horse to fully "get" the question asked, or the challenge placed before them, expands. Instead of telling a horse how to do something, or that they should, there's a deeper grasp of the why and how, and more purpose and meaning in their response.
While I've prioritized and appreciated the need for curiosity in young horse education, I haven't always given it the same appreciation and respect in my own learning. With so much going on, from maintaining the business, farm, and some hint of a normal sleep schedule, it's easy to find yourself moving through the motions of the day-to-day, overlooking the opportunity to ask questions so you can grasp a deeper understanding of the why and how.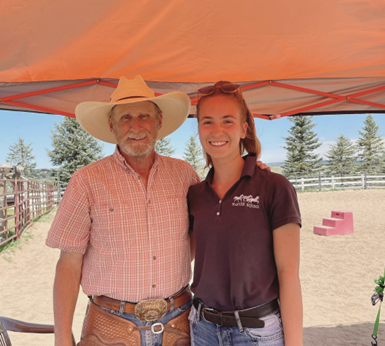 As part of my goal this year, I've pushed myself to focus and prioritize my curiosity, try new things, and ask good questions. Most recently, this curiosity in my own education took me to Colorado, where I was an auditor for the Mark Rashid and Jim Masterson Collaborative Clinic. Both Mark and Jim have a natural curiosity and openness to new ideas, questions, or approaches, despite, or maybe because, of their years of experience and expertise.
Participating in the clinic led me to ask questions regarding contact, softness, and energy when working with horses. Once I allowed myself to have the space and energy to focus on my own curiosity, I opened doors to better understand my own passion and work, and I came away reenergized to answer more questions to better understand myself, my horses, and our work together.
As we continue through the year, and as all of the time constraints, responsibilities, and stress seem to close in, I'm going to continue encouraging myself to hold the space I need for my curiosity, and the curiosity of my horses, so we can all better learn and grow together.