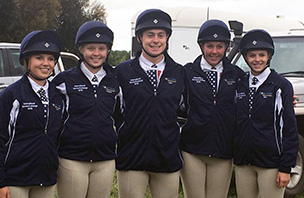 Early in the fall the International Mounted Games team went to Australia to visit and compete representing the United States Pony Clubs, Inc. The following blog posts are recaps from some of the members of the team. Enjoy!
For more information on this or any of the International Exchanges offered in Pony Club, click

The Land Down Under by Jaycee Blythe
I don't know how I got so lucky to have had the opportunity of a lifetime to travel to and compete in Australia. From our training camp to fundraising, the build up for this trip was worth the wait. Once landing in Australia, we met the three other teams: Great Britain, Canada, and Australia. It was a challenge at first, but all learned to step out of our comfort zones and introduce our selves. We all had a common interest and love, mounted games, so from there it was easy. It was funny how fast we took to each other and we able to become friends. Meeting new people and making life long friends is such a large aspect of Pony Club. I know I can say that I make friends on the tour that I will stay in contact with for years to come.
Throughout the tour we did a plethora of activities that ranged from shopping in the city to repelling down a rock face. Although it is very hard to chose, my favorite part of the trip was spending our free time all together. During free time, we could have all sat in our rooms and stared at our phones, but instead we would hang out together and either play cards or just watch a movie. It was those times that we really got to know each other. I also really enjoyed the day we went abseiling and rock climbing. It was something that I was not completely comfortable with, but was so much fun and I would love to do it again sometime.
I have learned a great deal from this trip and brought back some wonderful information and advice to share with my Pony Club and others. Within my Pony Club we had a meeting and I shared with them all about my trip. I told them about the friends I made, people I met, and the amazing experiences I gained. They were really interested and it got them all very excited about what could come in their future. As I continued to tell them about my experience I told them that there are exchanges for other disciplines other then games. There are not many people in my club who do games, but I explained how they could travel around the world through Pony Club, doing the sport closest to their heart. I expressed to them how it is hard work to become a part of the exchange, but they are Pony Club members, so that didn't faze them.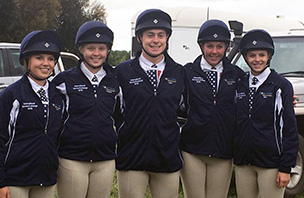 Overall, my time in Australia was indescribable. The time we spent traveling to our destinations allowed for myself to just watch and absorb everything that was around me. It was so beautiful and the people were so friendly. The competition at the end of our journey was just the icing on the cake and could not have been done without the pony lenders that took the time to drive the ponies to the competition. I know it is extremely difficult to let a stranger ride your pony; we thank them for trusting us. It just shows how Pony Club members and the community can come together to make things happen.