USPC would like to highlight the National Youth Board Members for the current term. Today we meet Area 2 member Kelly Lynch.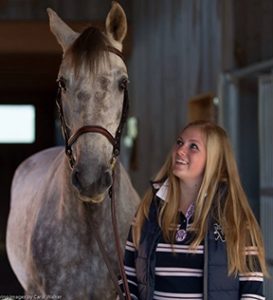 Kelly Lynch is an H-B, D-3 Traditional, C-1 Flat member of Centennial Pony Club in the Rocky Mountain Region. Kelly has been a member of Pony Club since 2006. She has been involved regionally at rallies, D camps, and Horse Management and Standards and Certification clinics as well as nationally, competing at Quiz Championships in 2010.
Outside Pony Club, Kelly is attending Colorado State University for Equine Science with a concentration in Equine Assisted Therapy. She works at the Colorado State University Research Integrity and Compliance Office. Due to the recent loss of her 8 year old Andalusian/ Saddlebred, Kelly has spent her extra time volunteering at an Equine Assisted Therapy program in her area, along with becoming more involved with educating local Pony Club members in her region. Kelly hopes to achieve her A Pony Club certification as well as become a National Examiner.