USPC would like to highlight the National Youth Board Members for the current term. Today we meet Area 3 member Kristin Short.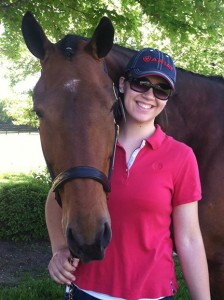 Kristin Short is an HB certified member from Lake Hunt Pony Club in Lake Shore Region. She has been a member of USPC since 2008. Since she began her college career in the fall of 2011, she has not had a permanent mount. However, not having a horse hasn't stopped her involvement with Pony Club. She is still very active teaching and volunteering at the club, regional, and national level. She was a member of Lake Shore's Junior Board from 2008-2014 where she served 3 years as the treasurer followed by a 3-year term as vice-chairperson. She was also her region's delegate to the 2014 National Youth Congress in Portland, OR. She is currently in her second year term of the National Youth Board.
Outside of the horse world, Kristin holds a Bachelor of Science degree in Human Biology with an emphasis in health science from the University of Wisconsin- Green Bay. She currently is attending graduate school at the University of Wisconsin- La Crosse where she is working to earn her Master of Science degree in Cell and Molecular Biology. She plans to finish her thesis, which focuses on breast cancer research, in the spring of 2017. From there, she hopes to attend another school to earn her PhD in Cancer Biology, Genetics, or Cell and Molecular Biology. In addition to her school work, Kristin is also a 6-year veteran employee of the Culver's restaurant franchise, a Midwest favorite!