Pony Club "A' Traditional member, Nicole Ligon (Pickering Hunt Pony Club in the Eastern Pennsylvania Region) has sent us a story about her experiences participating in the Inter- Pacific Exchange this year. Do you have interest in trying out for a Pony Club exchange program? Get more information HERE! Enjoy!
Attaining a position on the USA Inter-Pacific Exchange was at once one of the biggest honors and opportunities I have received through my time in the United States Pony Club. Simply being allowed to apply for the team was humbling; members must be B or A level riders, be willing volunteers and ambassadors for their country, and be capable of fundraising a fair amount of money for the trip. In the months prior to our exchange, our team had to learn valuable life lessons about not forgetting to be on conference calls, emailing and calling sponsors, communicating with companies, running auctions, asking for donations, organizing sales and money handling. These skills were valuable in my own personal confidence as well as for networking opportunities. I feel that I now have a rapport with tack stores, companies, and friends who all agreed to support our team. Also, we certainly impressed ourselves with our blog writing skills. Our Facebook page had over 650 followers throughout the trip, and this definitely helped us network and get to spread the word about an organization and program that we all feel so strongly for.
The cultural experiences we were a part of in Canada were truly incredible. One of the major perks of USPC's exchange programs is that there is a perfect balance between cultural and riding opportunities, and this was a wonderful one to be a part of. Our hard-working organizer from the Canadian Pony Club, Jacqui Dennis, did an incredible job of taking us for every type of cultural food we could imagine and allowing us to explore the CN Tower, Casa Loma, Guelph, the mountain resort and beach of Collingwood, and Niagara Falls. Obviously, Canadian culture and American are fairly similar, but I really enjoyed learning about new experiences through the lens of our South Hemisphere friends, like when we went to a normal, but fairly large tack shop and this was clearly the Disney World of horse stuff for them! We also kept a running record of Aussie/Kiwi words, such as "thongs and togs" (flip flops and bathing suits) and shopping carts being called "trolleys". (Actual luggage trolleys are also called trolleys. Curious.) Exploring many shopping markets allowed us to get to know all types of Canadian products such as the ever-popular poutine, maple syrup and maple candy products, creative crafts, and so many gorgeous Canadian-grown fruits and veggies. Seeing the country in this way, with so many close friends, is a type of travel that I don't imagine getting to do again. You get to see all of the highlights without having to do the travel planning and organizing!


Although many people think the riding competition is the main focus of the trip, I found that culture and friendship certainly overshadowed it. Regardless, our competitions were so incredible and made us very grateful for the volunteers, horse owners, judges, and organizers who put together such wonderful and fun competitions. Our three weekends held competitions for us. The first being a combined test of dressage and showjumping, the second a "Scramble Competition" (one team member from each country with one coach from a country) with a dressage test and showjumping/cross country course blend, and the Nations Cup showjumping to finish up our tour. These varied team formations and formats helped all of us to find and contribute our riding strengths and our teamwork, especially since we had a short amount of time at each competition to match our given horses to the most suitable riders. The Nations Cup competition, which was where we competed to take home the (hard to fit into a suitcase) trophy, was certainly stressful at first because we all wanted so badly to ride well to represent our country, Pony Club, coaches, donors, and teammates. Our first rounds were a bit rough, but some incredible improvement brought clear rounds and a second place finish for the competition! There was some confusion about scoring, since we were trying to meld FEI, Canadian, and showjumping/eventing rules, but our hardworking Technical Delegate, jump judge, organizer, and team managers all spent a ton of time poring over the score sheets and tallying and re-tallying points to be sure that things were fair. The New Zealand coach noticed a few inconsistencies and pointed them out, and this ended up giving USA the advantage over her own country by only a single point!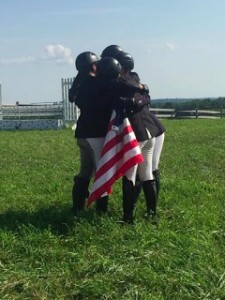 Displays of sportsmanship like the New Zealand team showed us is exactly what this exchange is all about. Throughout our time in Pony Club, we've all heard those magic words "sportsmanship, leadership, and stewardship through horsemanship" and I now have a much more thorough understanding and appreciation for them. It was at once amazing and not surprising at all to learn of our team placings, take a miniscule moment to reflect on our successes and challenges, and then immediately find our competitors friends and have a huge group hug and totally forget about the ribbons.
Our experience with the Inter-Pacific Exchange was truly life-altering. We are so lucky to have had the chance to meet so many new friends, have incredible experiences, see new things, have the opportunity for personal growth, and ride awesome horses. A huge thank you goes out to those who supported us in this adventure; from our families, our sponsors for equipment; donors; Wayne, Shelley, and Marian from the National Office; Jacqui the organizer, our wonderful coach Janna, our fearless momager/chaperone/chef d'equipe Allyson, and all of our new friends from New Zealand, Australia, and Canada. We hope that our experiences can encourage other members in our incredible USPC organization to be inspired to attain their upper level ratings with goals of attending the Inter-Pacific Exchange in the future.

Views All Time
910

Views Today
1