Viewpoint from a Pony Club Visiting Instructor
By Lydia Eilinger, National Youth Board Member and D.C. of Milton Pony Club, South Region
At first I was a bit afraid to travel to different parts of the country and share my teaching style with others. I quickly learned that no matter where you are, you are considered family in the Pony Club world. As far as those who are thinking about applying as a Visiting Instructor, be open to trying new things.
I have gained so much from these experiences, including practice for my upper-level certifications. As a Visiting Instructor, I have made friends and connections around the country. It is always fun to find out what region/club you have been matched with and where you will get to travel to. No matter if it is two hours or two time zones from where you live, it is an amazing opportunity. I encourage anyone to participate who is eligible to apply.
Idaho Adventure
I went to Sun Valley, Idaho, in July 2019. This was my first Visiting Instructor experience. I flew into Sun Valley, which is nestled between two mountain ranges. I was a Horse Management Judge at the Intermountain Region Dressage rally and Eventing rally. In between the two rallies, the region hosted an Eventing camp. At the rallies, I worked alongside Nancy Harter, who was the Chief Horse Management Judge (CHMJ). At the camp, I taught cross-country lessons. I definitely got my steps in walking the course on foot and lots of sun. It was a good thing I packed and wore a sun shirt. During the camp, I also had the opportunity to work with National Examiner Jennifer Pointe.
Texas Travels
Bayou City Pony Club in the Rio Grande Region invited me to teach their summer camp in August 2019. I did not know about Western when I was selected to go to Texas. I called a local Pony Club member in my region who gave me an overview on western tack safety and a lesson on Western Dressage. When in Texas, a few of the Pony Club members rode Western but were also open to trying new techniques. One of the members typically participated in barrel racing, so we practiced Western Trail and Western Dressage. Another member was a young untested member who was learning to post.
They had an amazing facility to host them, which was able to house us, and it had covered arenas with fans to keep us cool in the hot Texas summer. I taught all of the mounted lessons, and the club brought in some amazing local equestrians to teach unmounted sessions.
I loved being able to teach a variety of levels and see the growth in each Pony Club member throughout the week. One favorite thing I remember was that the host family that took me to the airport at the end of my time in Texas took me to a cupcake ATM. It was something I had never seen before, and it was very unique.
California Camp and Championship Prep
Portuguese Bend Pony Club in the Camino Real Region invited me to their camp and championship preparation. I found out that my host was the family of one of the members of the National Youth Congress I attended earlier in the year, so it was nice to have a small connection already. Their facility had an ocean view from the ring. This was the first time I saw and touched the Pacific Ocean.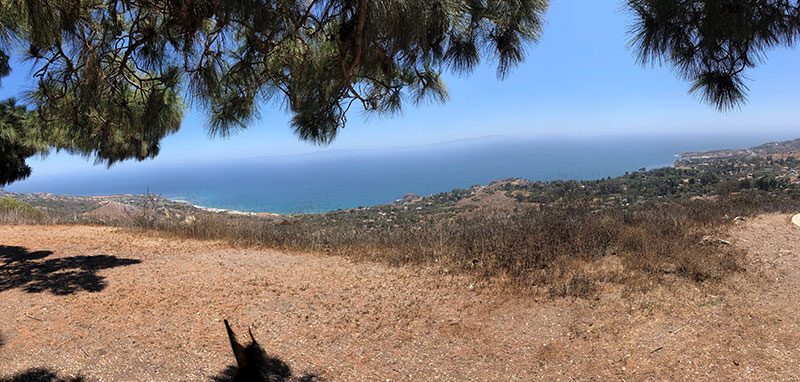 Most of the lessons I taught were individual or small groups, which I love teaching because you can focus more on each horse-and-rider pair. I was in California for just under a week, and it felt amazing to see the progress that all of the Pony Club members made and to see some of the goals they achieved. I was also happy to be the Examiner for a couple of D-1 certifications.
The Portuguese Bend Pony Club also scheduled plenty of time for me to explore the area and took me to the Aquarium of the Pacific one day. I also got plenty of steps in doing trail walking with one of my riders, but the views were always worth it. Once again I was reminded that the world of Pony Club is small and super welcoming.
Home in Western New York
I had the opportunity to visit my home region of Western New York to be one of the instructors at their summer camp. It was a great time working with other instructors to formulate lesson plans and learn from seasoned instructors. I taught mounted and unmounted lessons.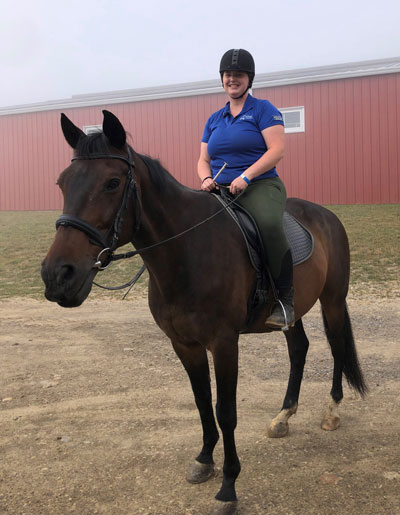 We were at a beautiful college that offered many different areas to ride so that groups could work on various techniques in all disciplines. I felt extremely welcomed by all the college assistants and was blessed to have an assistant help in lessons. The entire equine program staff was super friendly and flexible. One evening I walked into the house I was staying at, and the host had made delicious freshly baked cookies.
Because I grew up in the area, I knew some of the horses in the college program from before they were donated to the college. One morning, the equine staff invited me to ride one of my favorite horses whom I had helped train six years prior. It was a highlight of my trip.
On one of my days, I had some free time and took a long hike in the beautiful Letchworth State Park. I visited all three of the waterfalls along the river. I also was excited to be able to eat real ice cream, specifically soft ice cream. I am not sure what it is about New York small-town ice-cream shops, but nothing else can compare.
Lydia Eilinger, H-HM HM, C-2 EV, is a member of the 2023 USPC National Youth Board and is the District Commissioner of Milton Pony Club in the South Region. She was a 2022 USPC National Youth Congress delegate and participated in the 2022 International Foxhunting Exchange.