Meet the 2018 Visiting Instructors- Ella
The USPC Visiting Instruction Program is s a chance for current upper level members (18 year old and above, holding a national certification) to share their knowledge with clubs and centers throughout the country. It is an opportunity for these members to travel to other regions to meet new people, share insight, gain experience, and make money while having fun doing something they love. Clubs, Centers, and Regions wishing to obtain a VI will be asked to fill out a request form that includes important information such as dates, and what the VI is needed to teach. For More information visit https://www.ponyclub.org/Members/Leadership/Visiting/RequestInstructor.aspx.
In this new blog series we will highlight this years available Visiting Instructors.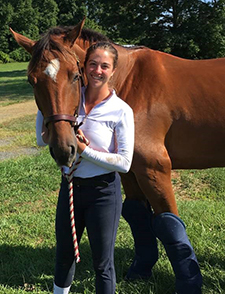 Meet Ella Groner
Hi everyone! My name is Ella and I am a B Traditional member from Iron Bridge Hounds Pony Club in the Maryland Region. I have been in Pony Club for 13 years and have participated in all Pony Club sports, from Eventing to Games, and even Polocrosse. My true passion is eventing. I have competed up through the FEI 1* level and was a member of the Area 2 team at the North American Junior Young Rider Championships in 2015. I am a junior at Gettysburg College in Pennsylvania, and have been fortunate enough to bring my horse to school with me. I have an 8 year old Hanoverian named Joey, and I currently compete him at the Training level of Eventing.