USPC would like to highlight the National Youth Board Members for the current term. Today we would like to introduce Micaela Forsyth.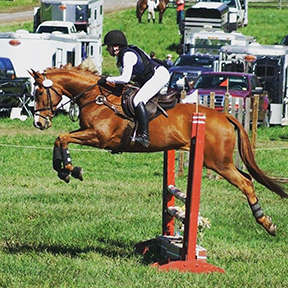 Micaela Forsyth is an H-Traditional member from Pickering Hunt Pony Club in Eastern Pennsylvania Region. She is currently a Biology major with a concentration in Cellular/Molecular Biology at West Chester University of Pennsylvania, Honors College. After this degree, she plans to attend graduate school for Clinical Mental Health Counseling with a specialty in Child Trauma.
Micaela has been a member of USPC since 2009. She has participated in numerous rallies, certifications, and clinics with Pony Club and has traveled to Championships multiple times in Virginia, Kentucky, and North Carolina. Through Pony Club's Visiting Instructor Program, Micaela has had the opportunity to teach all over the United States. Micaela is in her second-year term in the Youth Board where she participates in the Pin Promise committee as well as sits on the Visiting Instruction Committee. She is also the chair of her Regional Youth Board and represented EPA on the National Youth Congress in 2015. Through USPC, Micaela has had many opportunities to learn, travel, teach, and compete. In the future, Micaela plans on finishing her B certification and continuing to teach through the VI program.

Views All Time
284

Views Today
1