USPC would like to highlight the National Youth Board Members for the current term. Today we meet Area 7 member Jessica Pieracci.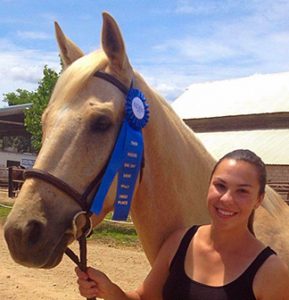 Jessica Pieracci is a C-3 Traditional member of Golden Hills Pony Club in the Middle California Region. She has been riding her whole life and joined Pony Club when she was 10 years old. She competes in eventing and tetrathlon on her six year old thoroughbred, Apollo's Harp. Jessica enjoys foxhunting and is an active member of the Los Altos Hounds. She has competed in Championships three times: once in quiz, and twice in tetrathlon. She was a member of the 2015 International Foxhunting Exchange held in Kentucky where she met an hunted with Pony Club members from Ireland and the UK. She is also a member of the 2016 International Tetrathlon Exchange to be held in Ireland this summer with teams from Australia, Ireland, the UK, and the U.S. Jessica enjoys teaching mounted and unmounted Pony Club lessons in her club and throughout her region.
Outside of Pony Club, Jessie is a full time student at Monterey Penisula College where she is majoring in Biology. In her free time, she enjoys reading, drawing, and, of course, the beach.