USPC would like to highlight the National Youth Board Members for the current term. Today we meet Area 5 member Nicole Ligon.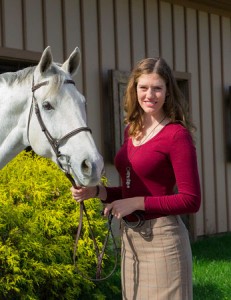 Nicole Ligon is an "A" member from Pickering Hunt Pony Club in the Eastern Pennsylvania Region. She has been a Pony Club member for over ten years, and spent time exploring a vast majority of what Pony Club has to offer, including foxhunting, mounted games, polocrosse, and the three day eventing disciplines. She maintains a busy schedule within her region by teaching unmounted meetings, participating in and teaching mounted lessons, giving clinics, and generally trying to encourage other members to reach for their upper level certifications and take advantage of the national programs within Pony Club. Nicole is extremely passionate about the upper level opportunities that USPC has given her and credits those opportunities as some of her favorite life experiences so far. She is a member of the Visiting Instruction Program and Committee, was on the 2015 Inter-Pacific Exchange Eventing Team in Canada, participated in the National Youth Congress, and is the Chair of the National Youth Board.
Outside of USPC, Nicole spends her days working at her mother's riding facility and trying to learn as much as possible from the amazing horses she gets to work with. She graduated from West Chester University with a Middle Grades Education Degree, specializing in Math and English, and is currently working part time in school districts while also saving time for riding. Her two main rides, Madison Avenue and FF Full Circle, are becoming quite wonderful event horses. Nicole also enjoys traveling, skiing, and reading books.

Views All Time
954

Views Today
1