Clair Thunes, the RS of Sierra Pacific sent out this fabulous note about her experience earlier in March. We felt it was well written and should be shared with all of Pony Club. Many parents experience what Clair did at Rally and can identify with this story.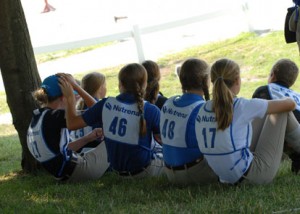 I have been involved with Pony Club for a really long time, 30 years in fact. I've worn a lot of hats; graduate B, RIC, HMO, DC and currently RS, but until yesterday I had never been a Pony Club parent. Yesterday was our regional Everything-But-The-Horse (EBTH) rally and my 6.5 year old daughter wanted to come and hang out just like she did last year. She's been riding for a couple of years and has been dragged to a good number of Pony Club events so I suggested that we could take out the non-member insurance and she could compete, something she excitedly agreed to and which she followed-up with by saying "by-the-way, I would like to join Pony Club." "Let's see how EBTH goes" I replied.
I've mentored my share of new Pony Club parents prior to rally season and I've seen what happens when you prepare at the 11th hour so we had our act together. I believe that kids have a much better rally experience when they go prepared knowing what to expect. So she started memorizing her dressage test 2 weeks before with many runs through on the living room rug. I went through the required equipment with her and she labelled all her brushes and made herself a stall card. We studied for the written test, cleaned tack together after her lesson the week before and I packed the car 48 hours before the rally. She had done her homework and was ready!
Rally day arrived and we woke up way earlier than normal and were at the rally in time to help set-up. My daughter was greeted by her team, a cheerful group of kids from Deer Creek Pony Club based at the barn where she rides. They swooped her up and helped her arrange her things and that was it. Other than a couple of passing hugs she had no use for me all day. Having not been sure if she was quite mature enough to make it through the day without being in her normal role of Mummy's helper I was thrilled to be forgotten.
Other big questions I had were would she remember how to introduce herself at her turnout inspection? What about her dressage test and jump course She has only ever competed on her lesson pony on the lead line so hasn't really had to memorize a course before. How would she do in written test which she had diligently studied for? Would she be a good sport?
I was a very proud Mummy when she flawlessly completed her dressage including her well-rehearsed extra big free walk steps. She also found her way around stadium. Missing only 2 questions in the written test was a success and she was bright and cheerful all day. With her team coming in 4th out of 12 as a nice bonus this day was clearly a triumph.
You may be as surprised as I was then when on the way home she started to cry. It was one of those fake cries the kind where something clearly isn't right but you aren't actually moved to tears. She's tired I thought, it's been a long day and it was unseasonably hot. After some prodding she explained that she was upset because she hadn't understood the multiple choice on the written test and had got 2 wrong and that there hadn't been an X on the ground in dressage because the dressage court was the black top in the school playground. She started looking for things that had gone wrong. There was no consoling her she continued to cry and get increasingly mad at my efforts to comfort her. I kept telling her she had done great and after 30 minutes of this I was starting to feel pretty annoyed because really it was quite silly.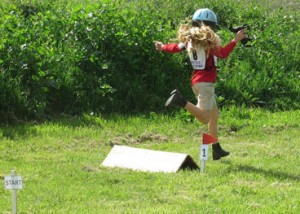 It was then that it hit me. I'd heard parents talk about this post rally experience before. When I was a DC I had parents tell me "Oh we aren't going to rally again, after all that effort getting ready the HM judges took off points for XYZ. My daughter said she felt terrible and she was miserable. She had nothing good to say." Or "Rallies are just too long of a day everyone gets hot and tired and by the time we go home the kids are in tears and it's just too demanding and stressful."
Sitting in the driver's seat I reminded myself that I've been here myself. I've been that Pony Clubber in tears and I've reaped the invaluable life lessons from such experiences. So I spoke up "it sounds as though you don't think you did very well today" I stated. At which point my daughter broke in to full on sobs "yes I wanted to get no points off, I wanted to get my team points, not lose points."
After arriving home and giving her a cuddle sitting in the car in the driveway we walked up the path to the front door. "I just really wanted to help my team" she sniffled. I turned and looked at her and replied "you know sweetheart you did help your team. You helped your team by being there so that they could be a 4 rider team. Because of you, your team had the option of a drop score." I went on to explain what that meant and suddenly the sun started to peak out from behind the dark cloud. It registered that she had made a difference to her team which was apparently important to her. A surprise to me given this kid has never been on any kind of team before.
We went in the house, got a snack and watched a bit of Mary Poppins, that woman really is a miracle nanny she can fix a child even through the TV! I thought about my experience and what I had heard from past parents who were not enthralled with their kids rally experience, threatening to never rally again, something that sadly for some had not been an idle threat.
I say sadly because I think they missed the point. I had the luxury of being in the barns all day so I got to see just how much fun she had really had. I may have been given the woeful tales of what went wrong but I watched her skipping around with her team, the big smiles, and the few times I had asked her how the day was going during the competition and whether she was having fun the answer had been a big yes. For the average parent who never goes behind the scenes their reality of the day is only what they hear at the end of it and sometimes is sounds awful. Yes my daughter was tired and overwhelmed from an experience unlike anything she had ever done before. But she had held her own. She had acted independently without me all day. Accomplished feats that she had never tried before and apparently grasped the concept that being on a team means that you try you best for everyone not just yourself. These are all lessons that are worth 30 minutes of tears in the car on the way home and a sullen kid for most of the evening.
This morning after a good nights sleep I asked her "was it fun though yesterday?" and she looked at me and said "yes", "would you like to do it again sometime?" and her eyes lit up and she looked at me and smiled. So we won't be avoiding rallies in the future in fact later this year we will likely join Pony Club so that we can rally some more.