USPC would like to highlight the National Youth Board Members for the current term. Today we meet Area 5 member Nicole Ligon.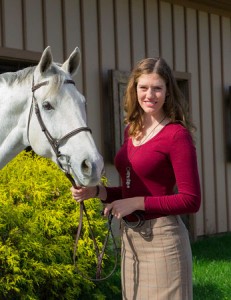 Nicole Ligon is an A member from Pickering Hunt Pony Club in Eastern Pennsylvania. She has been an active member since 2003, and has competed regionally in many disciplines. She attended Championships for Quiz, Games, Eventing, and as a stable manager. Nicole has also had the opportunity to compete as a junior games player in the Prince Phillip Cup during the Rolex Kentucky 3-Day Event.
As an upper level member, Nicole has taken on many opportunities that have been wonderful life experiences. She attended National Youth Congress in 2011, and is very enthusiastic about the Visiting Instructor Program, through which she's traveled to places as far as Boston, Florida, California, Michigan, and Alaska.
Outside of Pony Club, Nicole enjoys competing in eventing with her former Preliminary level horse, as well as a few youngsters at lower levels. She currently works as an assistant trainer at her mother's farm, and enjoys training, teaching, and spending time with the many talented horses and riders on their team. This spring, Nicole graduated from West Chester University with a Middle Grades (4-8) Education degree, and is still trying to choose between teaching in the arena or in the classroom! She also has passions for reading, baking, and spending time with her barn family.