USPC would like to highlight the National Youth Board Members for the current term. Today we meet Area 3 member Caroline Johnson.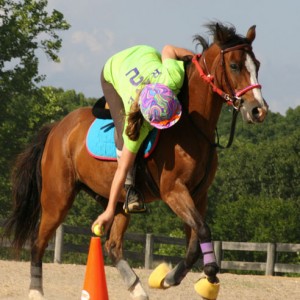 Caroline Johnson is a 20-year-old H-HM from Middle Tennessee Pony Club in the Midsouth Region. She has been riding since she was six years old and been a member of MTPC for over nine years. Currently, Caroline is a sophomore majoring in Animal Science Pre-Vet at Auburn University. She is an active member of Kappa Kappa Gamma and the Auburn University Eventing Team. Caroline competes in both mounted games and eventing. Last summer she had the opportunity to compete overseas at a mounted games competition in Lincolnshire, England.
When she is not riding, working on the farm, or doing science homework, Caroline loves to read and to volunteer. She has had the privilege to travel abroad to both Peru and Tanzania on service trips. She also has a slight obsession with Grey's Anatomy. In the future, Caroline looks forward to completing vet school to become and equine veterinarian. She hopes to continue to be involved in Pony Club in every way she can because of the influence it has had on her life and the amazing opportunities the organization has provided.