USPC would like to highlight the National Youth Board Members for the current term. Today we meet Area 6 member Charlotte Arrouye.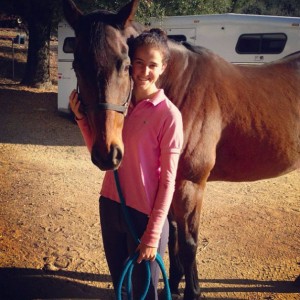 Charlotte Arrouye is a C-1 Traditional and C-2 HM rated member of the Pacific Ridge Pony Club in the San Francisco Bay Area with plans to take C-2 Traditional and H-B certifications in the coming year. She has been a part of Pony Club since 2009, loving every second of it and taking advantage of all the opportunities it has presented her with. She has qualified for Championships every year in Quiz and competed in Virginia and at Festival in Kentucky, displaying her love for the horse management aspect of Pony Club. Charlotte loves being as active as she can teaching horse management in the club and participating in rallies across the region.
Outside of USPC Charlotte attends Santa Clara University, hoping to pursue a major in Business. She catch rides on the Hunt Seat Equestrian Team there as well. When she is not at the barn (which is rare), she is an active community member, volunteering time to various organizations. In addition to Pony Club activities, she is also passionate about music and fashion.