USPC would like to highlight the National Youth Board Members for the current term. Today we meet Area 3 Member Kristin Short.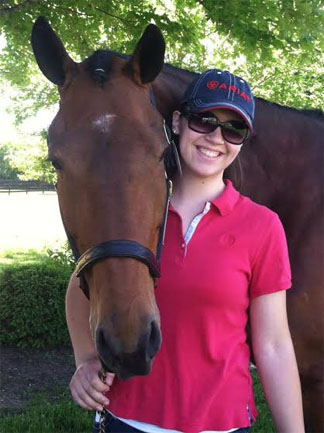 Kristin Short is an HB certified member from Lake Hunt Pony Club in Lakeshore Region. She has been a member of USPC since 2008. Since she started college in the fall of 2011, she has not had a permanent mount. However, not having a horse hasn't stopped her involvement in Pony Club. She is still very active with her region teaching and volunteering at both the club and regional level. She has been a member of Lakeshore Region's Junior Board since 2008 where she served as treasurer for one term and is finishing her term as the co-chairperson. She was also her region's delegate to the 2014 National Youth Congress.
Outside of the horse world, Kristin attends the University of Wisconsin-Green Bay where she studies Human Biology. She plans attend the University of Wisconsin-Lacrosse next fall to earn her Master's Degree in Cell and Molecular Biology with the hopes of eventually applying to Ph.D. programs in Cancer Biology. Kristin is also very active outside of her college career. She works as an assistant with a local concert promoter where she assists with the management of many national rock acts that play at venues all over northeast Wisconsin. She also works as a tutor though the Upward Bound program that works to develop tutoring and outreach programs to support and motivate high school students from disadvantaged backgrounds.