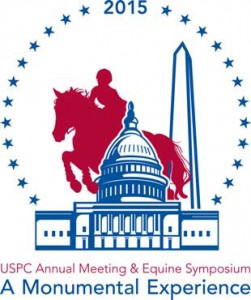 The countdown is on. It's just a little less than a month until the USPC Annual Meeting and Symposium. The National Office staff is excited. We hope you are too! There will be lots of informational meetings, seminars and workshops. Top presenters will be in attendance. It is the place to be January 21-25. Here's what you need to know about some of the incredible offerings.
Do you plan on attending the Trade Fair? The Research and Art Fairs? Well, then stop on by the Live and Silent Auctions! Interested to know what will be offered? We have some of the top items to be obtained. Here is a teaser!
Live Auction
The Live Auction will be held during the Oh-so-exciting Saturday Night Banquet. Three major items will be up for grabs!
-A cross-country schooling fence to be donated by Cross-Country Designs and Loudoun Hunt Pony Club. How cool is this? For those of us who ride and compete in eventing this is an amazing possibility! We can never have enough schooling and competition fences. Cross-Country Designs does beautiful craftsmanship. Don't miss this amazing contribution!
-A One Week Stay in a house in Durango, Colorado donated by Annie Goode. Ever been to Durango? There is so much to see and do from whitewater rafting to amazing state parks, skiing resorts, hot springs, and golf. In a week, what all could you get yourself into? We can think of many things!
-And if one Colorado trip isn't enough, how about the third auction item? A two night stay at the Ritz-Carlton in Bachelor Gulch, Colorado AND $500 towards two round trip Airline tickets. While auction winners are there they can go see the beautiful landscape, go skiing, hiking, horseback riding, hot air balloon trips or play golf.
Wow! After looking into some of these items we know people will be excited for the chance to purchase one of them (or even multiple)!
Silent Auction
Let's not forget the Silent Auction. To be held during the entire Annual Meeting and Symposium right near the Trade Fair! Check out some of the amazing items you could acquire:
–Artwork! Priceless pieces of art from horse scenes to wildlife themes. These beautiful items donated by the likes of Tracey Morgan, Lisa Rowe, John Tukey, and Mike McNally would be wonderful additions to any home or office.
–Autographed items! Hats and photos signed by Boyd Martin, Books signed by Jimmy Wofford, The O'Connors, or Denny Emerson. Who doesn't love autographs? Better yet, by respected top professionals.
–Horsey Stuff! Saddle pads, reins, stirrup leathers, breastplates, veterinary kits, grooming products, and jumping boots to name a few! Oh my, what a selection! You could almost outfit your horse for the next show season with all of the items available!
And if that isn't enough how about entries to major horse trials and capping fees to hunt? Generously donated by many horse trial venues and two major foxhunting organizations, don't miss out on your chance to get those entries guaranteed!
Even better there will also be clinics and lessons with National Examiners, Upper- level Event riders, Daniel Stewart, graduate Pony Club members, and even a Horse Management Judge!
So if you are looking for an amazing silent auction be sure to join us at the Annual Meeting! We look forward to seeing you there!!

Views All Time
442

Views Today
1