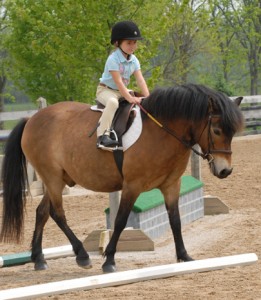 Whenever a medical condition is termed a "syndrome," the disease process is not clearly understood. So if you are confused by Equine Metabolic Syndrome, you are in good company! This is an area of equine medicine that is undergoing much research and there is a whole library of materials written to help veterinarians and horse owners understand what is happening in our horses.
"Metabolic" pertains to the ability of the body to maintain life through an assortment of chemical processes. Many of these processes are governed by the endocrine system (the system of glands that secrete all sorts of chemicals that make it possible for the body to function). One gland that is critical for sugars to get into cells (to power them) is the pancreas, where insulin is secreted.
It should be made clear that Cushing's syndrome (yes, another syndrome, not fully understood!) and EMS are not the same thing. These two diseases share some signs and symptoms but are distinctly different in the horse. One further clarification, Cushing's syndrome in horses is more accurately called Equine Pituitary Pars Intermedia Dysfunction (PPID) because it is not the same Cushing's syndrome as is seen in people and dogs. The name is a mouthful but it refers to the part of the brain that is affected. This is a different location than where Cushing's syndrome originates in dogs and humans even though some of the symptoms are the same in all species.
Here is a list of what the horseowner may see that warrants discussion with a veterinarian:

If veterinarians suspect EMS, they look at the way fat is distributed on the body and the specific diet the horse is eating. EMS horses tend to be "easy keepers." These horses can get fat on "air and water." Veterinarians once thought that owners were overfeeding these horses but now it is known that the horses have something wrong with their metabolism that makes them get fat so easily. They have extra fat deposited in the crest of the neck, at the tailhead (where the tail connects to the body), around their eyes (fat deposits behind the eyes often make their eyes protrude more than normal), in the sheath of a gelding and around the udder of a mare. These horses often are eating a high sugar diet ("sweetfeed," lots of treats including carrots and apples) or lush pasture and they get fat more easily than their herdmates.
There are blood tests that can be done to determine if the horse has EMS. One of the expected results is a diagnosis of Insulin Resistance. Insulin is secreted by the pancreas (one of the endocrine glands, mentioned above) and is needed for proper sugar/energy metabolism in the body. If the cells that normally take up sugar for energy are insulin-resistant then the body will circulate more and more insulin trying to get the cells their energy. The cells do not respond normally and the sugar levels and insulin levels are high in the blood. Your veterinarian may want to do other assesments to further insure their diagnosis. It is important to note, more tests are being developed to try to pinpoint what exactly is not working properly in these horses.
Check in with us next time as we discuss diagnosis, care, studying for your H-A, and other considerations with EMS!
Our blog article comes to us today from USPC Advisory Board Member and Veterinarian, Rae A Birr, DVM. Rae graduated from Pony Club as a B in 1978 and graduated from Michigan State University as a Veterinarian in 1984. Her practice career has always included horses, particularly equine medicine, reproduction and conditioning. She feels strongly about educating the horse owning public so we can be even better caregivers of our equine partners.

Views All Time
407

Views Today
1