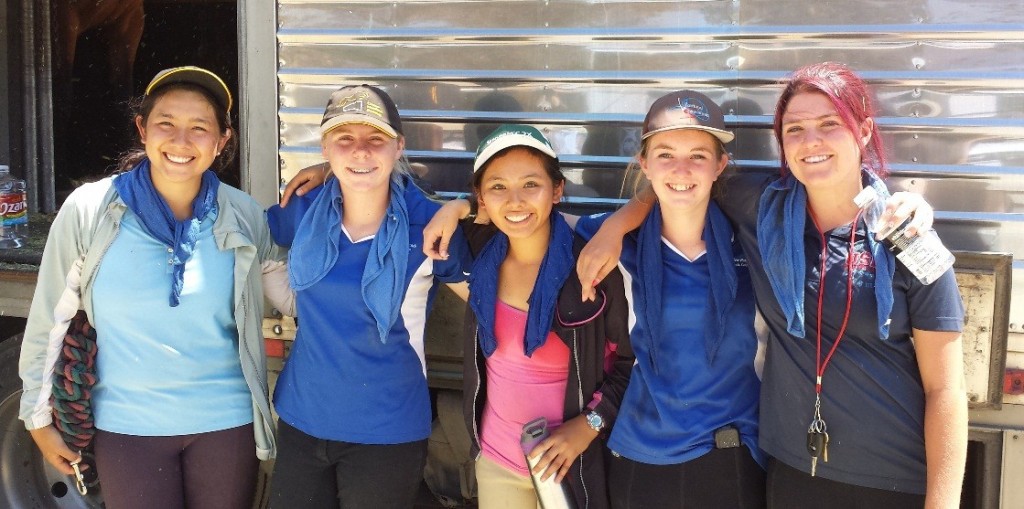 By Greg Coulson
We are a small Pony Club in Upper Ojai, California; only twelve members on a ranch not within easy reach of urban centers. We do not have fancy facilities; not even a respectable box stall on the place. Our parents are middle class, both working to support their kids. Time and money are in short supply.
Horses generally start out as occasional riding lessons for small children. If the bug bites, lessons become regular and students experiment with local competitions. Mounts are leased and schedules are arranged around riding time and schooling sessions as the addiction takes hold. Somewhere along the line the kids join Pony Club for adventure in equestrian sports. Thus did Gabi and Felicia Parades, Elaine Sanders, and Camryne Hartke fall into their riding habit. Sarah Barns arrived from a different approach, growing up in Ojai as a local western horsy kid around town, but became attracted to Pony Club through a drive to learn everything possible about horses.
These five members were part of the Camino Real Region contingent, 33 strong, of the United States Pony Clubs to participate in the USPC (National) Championships and Festival this year. They joined over 1,100 members bringing around 1,000 horses for competition, education, and fun at the Kentucky Horse Park, Lexington, Kentucky. Teams would compete in Eventing, Show Jumping, Dressage, Games, Tetrathlon, and Quiz. Championships opened with a parade of teams from 41 of 42 regions in the United States as well as teams from Canada. Thus began an excitement filled 10 days in July and a truly amazing odyssey for one of our members.
Riverview Pony Club is supported by Peppercorn Ranch. The Ranch is a full service equestrian center, what one might call a boutique stables due to its size. My wife, Lauren, and I operate the place out of love of horses, doing nearly all of the work by ourselves and working students. The Club owns around 11 horses and ponies donated from a variety of sources; these are leased out to members and used for lessons. This enables members to ride a variety of personalities and change mounts as their skill levels improve. The animals vary from quiet school mounts to fancy athletes; two of our current mounts were originally imported from Europe. Nearly all have had extensive competitive careers.
Last year a local trainer called our Club about a horse that one of her clients could no longer support and she did not have someone at hand to purchase him. He had been turned out to pasture as an economy measure until a home could be found. A donation to RVPC was arranged and we picked him up. He had lost a tremendous amount of weight and had sore feet from hard ground; a restoration project. Thus Crescendo, a 17.1 hand Holsteiner, arrived at Peppercorn Ranch (4 inches = 1 hand so Crescendo is 5'9" tall at the withers).
Felicia Parades, C-1 Traditional member, took over the recovery of Crescendo. In short order he gained weight and got his health back. She continued with a conditioning plan for return to competition fitness and introduced him to dressage as well as cross country jumping. Most of his experience had been as a show ring jumper. His biggest asset was a very kind heart packaged in a very big body.
A graduate Pony Club member advertised a horse for donation in the Region. Our Club worked with her to find the right member for her horse, Seamus. She had imported the Irish Sport Horse several years before as an experienced eventer. However, she no longer had time to give him due to work and she wanted him to have a good home. He had been sitting in her back yard, used only for weekend trail rides.
Gabi Parades, C-1 Flat member and Felicia's younger sister, tried Seamus out; it seemed a good fit. She took him to several dressage shows and then his first combined derby. They did well in dressage and warmed up very well for the jumping round. However, after cantering to his first fence he hit the ground at 700 meters per minute towards a row of spectators. The audience scattered; Gabi was able to pull him up with great effort. The episode has become famous in the annuls of the Meadows of Moorpark.
Felicia and Gabi played around with each other's horses at home and found that they liked each other's better. They traded. Thus Gabi, at 4'11" tall, ended up on the huge Crescendo, and Felicia, taller and stronger, ended up on Seamus, a more average 16.2 hand, but very forward over jumps. Gabi had already earned the 2013 Ventura County Dressage Society Schooling Show Series Training Level Championship on Seamus. Now she had to develop a new partnership with Crescendo.
Felicia earned her C-2 Traditional and Gabi earned her C-2 Flat Certifications. They both spent many hours competing at schooling dressage shows, jumper shows, and horse trials. They learned that local high scores do not survive when competing at higher level competitions and they had to raise their game to succeed outside of Ventura County. They moved up to earn good ribbons in Horse Trials around California on their new mounts.
Camino Real Region has a rigorous qualification process to choose who will represent it at the USPC Championships. All Pony Club riding rallies include Horse Management where members earn scores for how well they care for their mounts throughout the day. The qualifying process includes meeting minimum standards as well as Horse Management and riding scores.
This year Riverview had two members qualify in two disciplines and three qualify in one for Championships: Felicia on Seamus and Elaine Sanders, C-1 Traditional, on Red Baron for Show Jumping and Eventing. Gabi on Crescendo for Dressage, and Sarah Barns, C-1 Flat, on her own Gem for Show Jumping. Camryne Hartke, D-3 Traditional, qualified to be a Stable Manager. Felicia will be a freshman at Ventura College, Gabi will be in her junior year at Foothill Technology High School where Elaine will be joining her as a freshman, Sarah will be in her junior year at Nordhoff Independent Study, and Camryne will be in eighth grade at Ventura Missionary School this coming year.
Camino Real Region saves money for 3 years and runs several fund raisers to earn money for the triennial National Championships. This pays for the entry fees as well as horse transportation to Kentucky for most of the competitors. Members are able to compete nationally at a much reduced cost. Sarah's scores put her just beyond the funding cutoff; the Region was only able to pay for her entry fees. She was able to gather enough local donations to help her pay for the trip.
Felicia chose to compete at the Beginner Novice Level in Eventing and Elaine went with Developing Horse and Rider Division of Show Jumping. Gabi went at Training Level Dressage and Sarah in the Intermediate Division of Show Jumping with Camryne as Stable Manager of her scratch team.
The Region encouraged all competitors to have a rigorous conditioning program to prepare for the long trip to Kentucky. A Champ Camp was held to organize everyone, prepare horses, and check all equipment. Every effort was made to make sure we had a successful trip.
All Pony Club Competitions are by teams; usually 4 riders and a Stable Manager. All teams at Championships have to be made up of members competing in the same level or division. Regions can send full teams or members to be put on scratch teams. Very few individual awards are given, nearly everything is based on team results so everyone has to work together to win. And members may find themselves on teams with people from many different areas of the country.
All 21 Camino Real horses traveled by commercial vans to Kentucky. They split the 2,200 mile trip in half with a 24 hour layover in Texas. It is a huge shock to horse's systems to change from California to Kentucky so we shipped a few days early to have adjustment time. A few mounts had health issues on arrival. Crescendo had become dehydrated in spite of preparation for the long haul; he took a bit of veterinary work to bring him back ready to perform.
Gabi was not able to ride him as aggressively as we would have liked since we only had 48 hours before competition began. They had been doing some very nice dressage tests at local shows as well as jumpers and eventing. She had been working on the gallop track at home and was well prepared. However, the question would be if she could pull off four really good tests in a national championship environment. There were 104 Dressage competitors who would be doing four tests each. One would be a Musical Freestyle designed by the riders themselves.
As Camino Real Dressage Coach, I talked with Gabi about adding brilliance to her rides. Normally we ride for consistency at home to produce high scores based on the USDF Pyramid of Training, but at national competitions you have to kick it up a notch and take chances. Would our very small rider on a very big horse be able to pull it off?
"Wow!" I said to myself as she propelled Crescendo down centerline for her first test; they were spectacular. She earned 72.35% to be the leader on the first day. The next day she turned in another great ride to tie for second high score for ride two. Then she did her Musical Freestyle and produced the Freestyle high score of 77%, an average between 2 judges. Being on top is not a good place to be as everyone is shooting to better your score and it is very easy to take a hard fall with a minor bobble. Could Gabi and Crescendo pull of a quality test on the last day?
They went down centerline to perform the same test she had done for her second ride. This time was even better to earn 71.4%. Gabi and Crescendo led their Training Level Team to 3rd place out of 18 teams, 15th in Horse Management. Gabi won the individual Musical Freestyle Award for Training Level as well as overall Levels. Her total percentage score for 4 rides was 291.93; 3.67 points ahead of the next total score for all Dressage levels.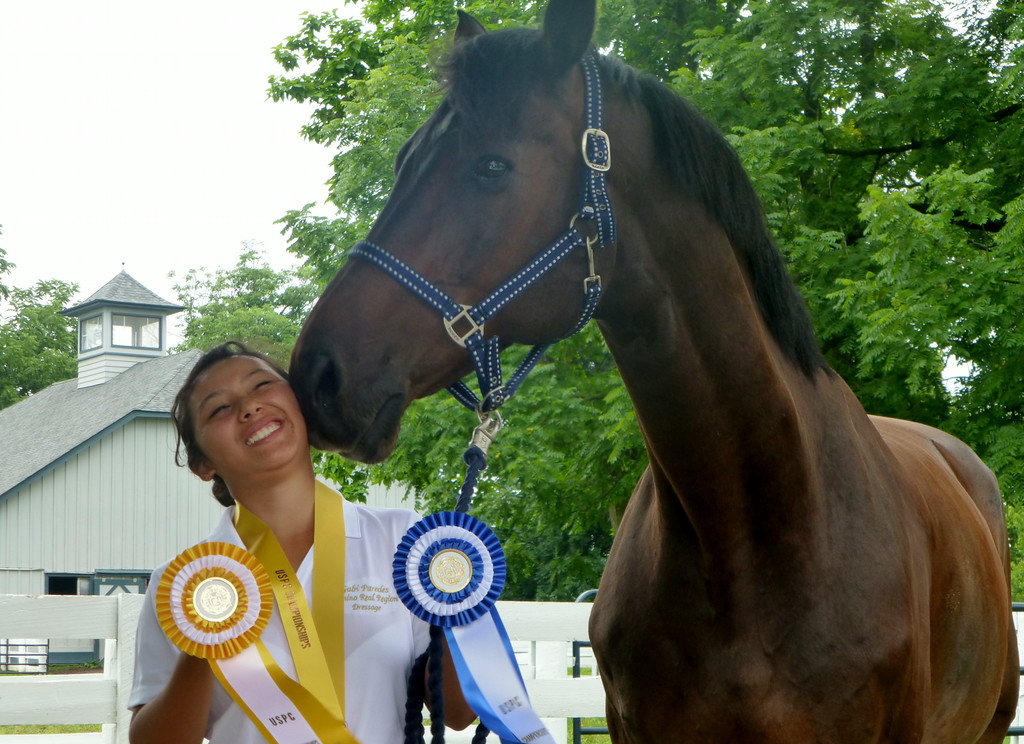 Camino Real members on a scratch team with Maryland Region won the Modified Division of Show Jumping Horse Management and overall out of 7 teams. The Camino Real Region Developing Horse and Rider Team won 6th place in Horse Management and 1st place overall out of 16 teams in that Division. Felicia and Seamus' Camino Real team was in 6th place Horse Management and 20th overall out of 24 teams in Beginner Novice Division Eventing. Elaine and Red Baron's scratch team of Camino Real and Old Dominion was 7th place Horse Management and 15th overall out of 16 Teams in Developing Horse and Rider Division Show Jumping. Sarah and Gem with Camryne's Camino Real and Rocky Mountain Intermediate Show Jumping Scratch Team was 7th place Horse Management and 9th place overall out of 12 teams in Division A.
The next 3 days in Kentucky were spent in clinics with nationally recognized instructors. Members were able to experience great teaching in many disciplines on the same ground as the Rolex Three Day Event is held. Beyond how people placed it was a once in a life time experience, a great opportunity for learning about horse people from all points of the United States, to work together for a common goal.
Everyone returned safely home and the next day Kentucky competitors joined fellow Pony Club members to teach in Summer Day Camp; developing future horse people on quiet ponies and horses. And it all starts with a small club in a rural location, somewhat difficult to access, in a Region spread far and wide over a large area of the west; where kids get that "first time on a horse" lesson and have the opportunity for years of growing, and learning; where donations can make serendipitous matches with riders, even an odd match of a giant mount and diminutive rider, to be the best in the nation.

Views All Time
382

Views Today
1