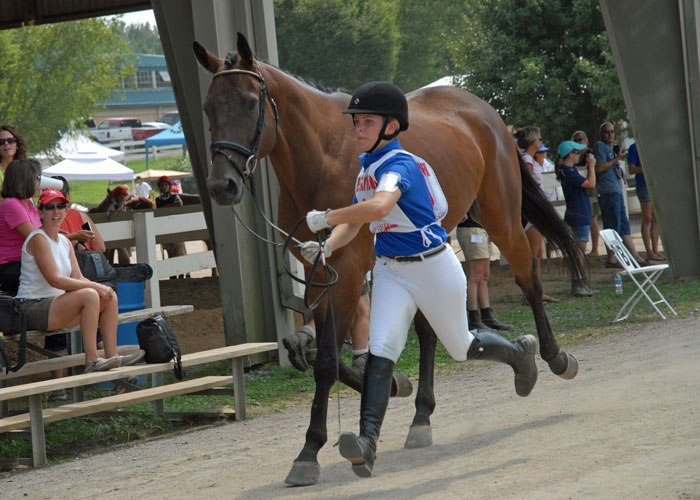 Possibly one of the most overlooked parts of any Rally is the Horse Inspection. Members are so focused on having good rides that they forget their trusty steeds must pass a soundness inspection before continuing on to the ridden portion of Rally. This goes for Festival as well. Check out these helpful tools to have successful trips down the jog strip at Festival.
1. Practice Makes Perfect – If your Horse Inspection at your regional rally was less than stellar, practice every day between now and Festival. Jog you mount from one end of the ring to the other before your ride and again at the end. He or she may be poky or even walk the first few times but with practice, and the use of a dressage whip, they will learn to trot nicely at your side.
2. Check That Footwear – Members are required to jog in barn appropriate footwear, that's a given. But don't forget your mount's footwear. If they're barefoot, be sure to have their feet rounded up before arriving on the show grounds. If your mount goes in shoes, make sure to have them looked over by your farrier before shipping out. Freaky things happen while traveling and stabling; should your horse throw a shoe when you arrive at the Horse Park, there will be a farrier on the grounds who can fix your mount right up so don't panic but don't wait until ten minutes before your Horse Inspection to get it fixed.
3. Dress Appropriately – While it is often hot and muggy in July in Kentucky and shorts are okay, running shorts for Horse Inspections are a big no-go. They are fine for mucking around in the barn as long as they meet the dress code standards but a much more polished look is expected at your Inspection. Bring nice khaki pants or shorts and a nice polo shirt to wear. It is often the first impression the Horse Management staff has of you so make a point to look professional. Tall boots and breeches are not required and, while they do look nice, they aren't the most comfortable thing to jog-out in. There is often a lot of walking done prior to actually getting to the jog strip. Save your tall boots and breeches for the show ring. Don't forget to run some polish over those paddock boots before heading out!
4. Present a Clean Horse or Pony – Your mount doesn't have to be ready to head off to a turnout inspection but they should be respectably clean. Remove poop stains, shavings, and straw from your mount. Pick their feet. Wipe off their nose, eyes, and dock. Run a brush over them. Detangle their mane and tail. Wipe on some hoof polish. Remember, this is often the first time your mount is seen by the HM staff and other spectators, including friends and family. Make a good impression!
5. Wear Gloves – Even though they are not required for Horse Inspections, gloves add a polished look to your attire and can save your hands in the event of your mount getting rambunctious on the jog strip.
6. Be On Time – If your Horse Inspection is scheduled for 4pm, both you and your mount should be ready to go by 3:45pm. Inspections are done in numerical order so be savvy and help your HM staff out by lining up correctly for them. Being late to any Inspection can also result in serious Horse Management penalties for your team.
Be sure to check back tomorrow for Part 2 of our Horse Inspection series for tips seven through twelve!