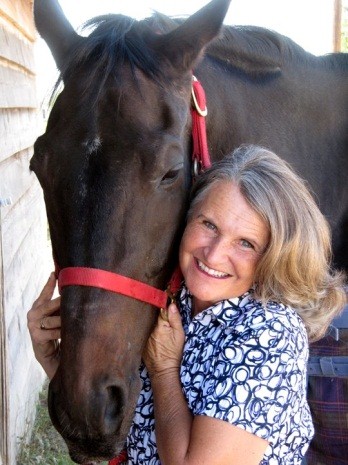 What do Leprechauns, trolls, unicorns and Pony Club have in common? They are all passions of Pony Club "B" graduate, author M.J. Evans.
According to M.J. Evans, known as "Margi" to her friends, she was born with manure in her blood. As a teen, Margi rode her horse across town to Lake Oswego Hunt Club where Pony Club met every Saturday morning. She loved everything about Pony Club, from her team mates, to the lessons, to the Rallies, and the emphasis on horsemanship.
While attending college, getting married, teaching at the middle and high school levels and starting a family, Margi had very little time to feed her horse passion. She was able to help start an urban Pony Club in New Haven, CT. She was also able to assist with local rallies upon returning to Oregon. When Margi was finally able to return to horse ownership, she decided to focus on dressage. She is currently competing in USDF Region V shows at third level on her horse: Love That Jazz.
Jazz is also the star of her equestrian fantasy trilogy: The Mist Trilogy which is about the noble and great horses that are chosen to become unicorns after they die. The first book, Behind the Mist, was released in 2011 and the second of the trilogy, Mists of Darkness was released in 2013. The second book includes a young girl named Paige who also discovers Pony Club. She is healed of her injuries at the Rolex Three-day Event by Jazz, who had earned his unicorn horn.
While she loved writing The Mist Trilogy, she also had fun writing a new fantasy about three children helping a village of Leprechauns fight for their independence from a band of greedy, grotesque trolls. This new book is titled North Mystic. M.J. also writes a blog about the noble and great horses: www.themisttrilogy.blogspot.com.
When teaching at the middle-school level, M.J. discovered that it is often at that age that kids stop reading. So, when she got back to her writing, she decided to focus on books that kids of middle-school age would love to read. Her advice to young Pony Club members…When you can't be riding, be reading!
She is able to offer discount prices for bulk orders for Pony Club fund raisers. You can contact her through her website: www.behindthemist.com.

Views All Time
342

Views Today
1