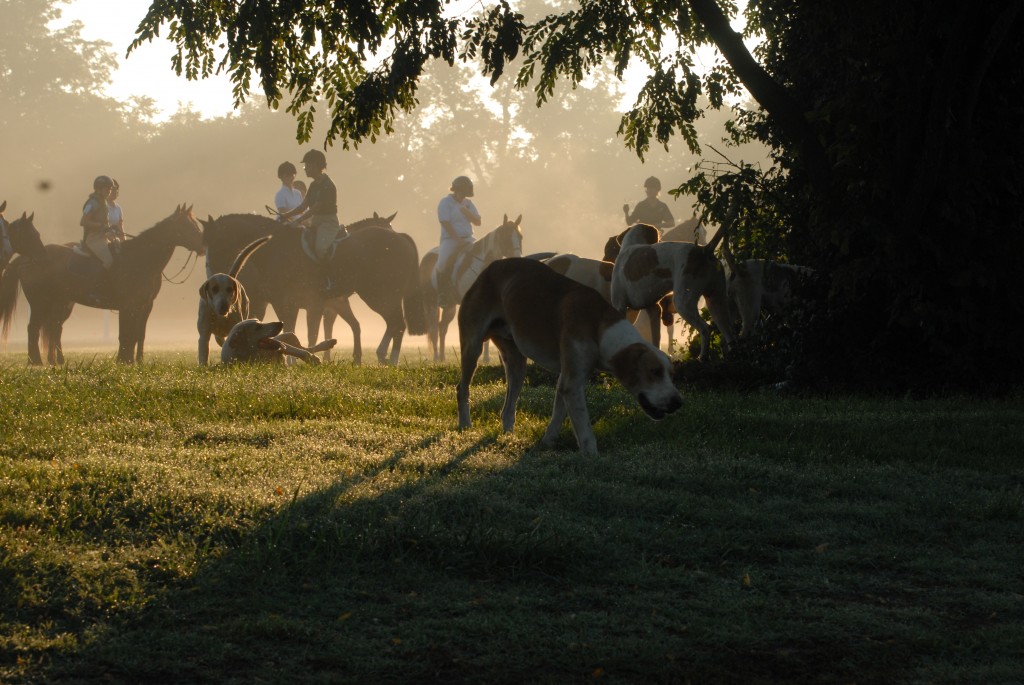 Foxhunting at Festival 2011[/caption
Does your Pony Club have a fox hunt anywhere nearby? Have you ever been to the kennels for a tour, or to snuggle puppies, or help walk out hounds for exercise?
If you haven't had a chance to do this, it might be something that you can put together with your local hunt staff pretty quickly and easily. And since USPC now has a foxhunting pin and certificate program, this could be not only fun, but a first step toward getting everyone in your club that special recognition, even without riding in a hunt! (See more about the USPC Foxhunting pin program here: http://www.ponyclub.org/?FHAwards)
The first step in reaching out to your local hunt is to look at the Masters of Foxhounds Association web page (www.mfha.org) and check the listing for finding a hunt near you. Then you can navigate over to the hunt's web page or contact listing, and see who the right people are to reach. Usually there is a person such as the Honorary Secretary for correspondence, or you could get bold and go right to the top, writing to the Master of Foxhounds (there maybe two or more, actually).
If you write and explain that your club would appreciate it if there were an opportunity for a kennel tour and learning session, I'm pretty certain that they'll respond favorably — one of the main things I hear at the Masters of Foxhounds meetings is how much the hunts would love to see more youth participation. And in the summer, there's no pressure to have to jump up and hunt, you can start small, snuggle some hounds, and get to know the people involved.
If you do have a kennel tour set up, then the next thing to go for is a mounted session, practicing the skills needed for a happy day in the hunt field. Sometimes hunt staff (the huntsman, whippers-in, or even one of the masters) will be willing to take you out into the open and practice moving along in a group, opening and closing gates, basic expectations of manners for horse and rider, all those good things.
The other cool thing you should know about is that many hunts offer summer prep sessions or even camps, and if you or your DC can reach out to ask about it, you might find that there's something all set up. Arapahoe Hunt in Colorado is doing one this summer and has invited every Pony Club in Rocky Mountain Region to come, and Caza Ladron Hunt in New Mexico is doing the same thing in September.
And if that goes well, you can look forward to the beginning of informal autumn hunting, also called cubbing. That's a great, low-stress way for your club and your horses to explore what it's like actually going out with hounds.
So take a look and see if you have a hunt in your vicinity — it could be the beginning of a great relationship!
Suggested reading: http://mfha.org/mfha-kids.html
Tally Ho!
Nancy Ambrosiano
USPC Advisory Committee
MFHA/USPC liaison