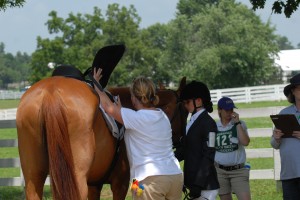 Proper Attire for Turnout Inspection (aka Formals)
The HM rulebook is very specific about attire, both working in the barn and for turnout inspection (Rule 7, starting on page 6 of the 2014 HM Rulebook). For this tip of the day, I'm going to focus on proper attire for Turnout Inspection.
One thing I would like to point out is that some disciplines have their own specifications for attire (e.g., polocrosse, tetrathlon, and games come to mind.) BE SURE to double-check your rulebooks.
There is a VERY important grid on page 9 of the rulebook–it lays out the differences between formal and informal attire. Read it, love it, follow it. The formal vs. informal determination is made from a combination of the jacket color, neckwear, color/type of pants, and boots. Here are a few pitfalls that we see:
Solid black jacket MUST be formal, and thus boys cannot wear a necktie with a solid black jacket and be properly formal. They must wear a stock tie.
Chaps must be full grain/smooth leather (no suede half-chaps after the D levels).
Jodhpurs must have knee garters or pant clips.
If your breeches have belt loops, you must wear a belt (games is the exception).
———
Extra tips if you go FORMAL:
Practice tying your stock tie! (Extra starch when ironing makes it easier to tie and look neat!)
Pin down the ends of your stock tie to keep the tie flat while riding.
Bring track pants to keep your white breeches covered.
——-
Question to ask at briefing:
"Do you prefer that we carry our spurs to turnout, or do you want us to wear them?"
——
Alright, I know it's not as in depth as my past posts, but the big point is READ THE GRID on page 9, and — USE it for inquiries!
Good luck!

Views All Time
379

Views Today
1