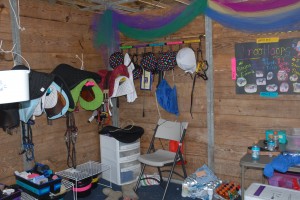 Success with First Set Up and Safety
Alright. First HM scoring will be First Set Up and Safety. There are 4 "areas" that are scored on this sheet. I'll walk you through each one.
Stable/Trailer Area:
We are looking to make sure that the stalls are set up properly and that our equine friends are all comfortable. This includes a decent amount of bedding in the stall, removal of any objects that might cut/upset your horse (not so much a problem with the concrete stalls at the VA Horse Center, but you never know…), properly hung buckets and hay nets (if used), and…A COMPLETE STALL CARD. You do not have to use the stall card that appears in the HM rulebook, BUT we do need to have the basic information listed in HM Appendix 1 in the 2014 HM Rulebook. Overall, HM Rule #11 is a great reference regarding what we are looking for when scoring this box.
Horse Equipment:
In this box, we are judging halter fit (this includes whether or not you labeled halter with competitor # and barn/stall #; the latter might be a good question to ask your CHMJ). Make sure that your horse is wearing a breakaway halter that is well adjusted. General guidelines are no more than 3 fingers below cheekbone for nose height, and no more than a fist for noseband tightness. Horses MUST wear halters at all times, UNLESS you get special permission from the CHMJ. You should make a big note on your stall to remind AHMJs that you have permission to remove your horse's halter once it is granted.
Feed and Tack Area:
This is where we check the general neatness and security of your tack and feed storage areas. We are looking for a complete and easy to locate and understand feed chart for all mounts on the team, as well as checking that your feed is secured (hay tied up and labeled; grain inaccessible to horses). If you are going to be in feed trailers for a rally, make sure your trailer has a visible label so that judges can easily find it.
In the tack room, we are looking to verify that all of your tack is on-site. You are REQUIRED to leave all of your tack on-site. So 4 horses will need 4 saddles (at least) and 4 bridles in their tack room. You CAN lock your tack room at night (check with CHMJ for your discipline), but you usually need to provide lock combo and/or extra key to CHMJ. Your stuff should be labeled BY THE TIME COMPETITION STARTS. You don't have 3 days to get it done. Slap those labels on EARLY!
The last area is the Initial Horse Inspection. Remember, I talked about Jog Out in Tip #8. Well, this is the sheet upon which you are scored for the opening jog (the others appear on regular daily sheets. Specifically, we are looking to see that you are:
–ON TIME
–Your horse is well groomed and in good condition
–You are properly dressed (e.g., not in your pajamas!)
— and that you are handling your horse per PC guidelines. (e.g., we see many people forget how to turn their horses at the end of the jog lane – hint, you turn IN to your horse.)
There is usually a lot of leeway on the S&S sheet at one-day regional rallies, so BE PREPARED for a bit more intensity on the first pass. Have your stuff organized and ready to go BEFORE briefing so that you'll be ready once actual judging occurs.
Good luck, and be safe!

Views All Time
338

Views Today
1