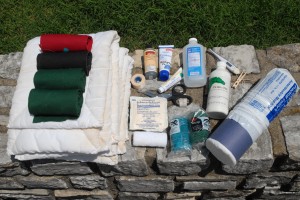 Rally season is finally here! I thought we'd take a peek at one of the kits that causes the most penalties…EQUINE FIRST AID!
The Equine First Aid kit must be readily accessible, as horses never get injured at convenient times or in "normal" locations. It should be out, and relatively near the door so that we can "grab and go" should a horse come back with a huge gash that needs to be treated until a veterinarian can arrive. The kit is also not intended for you to have all the supplies to perform major surgery. The supplies within are intended to tide you over until a vet can come. That said, members are always welcome to include more stuff in their kit (poultice and poultice paper are a common addition), but it should not distract from the required elements.
Petroleum Jelly – The main use of this item is for the thermometer, and because a pony's dock isn't the most…uh…sterile site, we are now recommending that clubs invest in squeeze tubes of the product. This helps keep dirt and sawdust and other unsavory materials from contaminating your big pot of vaseline. Just squeeze the product on the thermometer and you're good to go!
Veterinary Thermometer – Digital thermometers are the only accepted thermometer as of the 2014 HM Rulebook and they are great, however, you need to make sure that the battery is working. A dead battery = dead thermometer = points off.
Body Wash or Liniment – this is your Absorbine, Vetroline, Bigeloil, Sore No More, etc. You should have a bottle that is at least half-full. We also recommend storing it in a plastic ziploc bag, as liniment is notorious for leaking, and then you all smell like menthol. Yum!
Isopropyl Alcohol – For quick sterilization. Again, this frequently has an expiration date stamped on it, however, it is another one of those "shelf life" deals. There is no active ingredient in alcohol.
Antibacterial or Antimicrobial or Antiseptic Scrub – You can have betadine scrub, betadine + liquid dish soap to make a scrub, or an antiseptic liquid soap such as Dial. You do not need to travel with the HUGE bottle of betadine, and can make aliquots. You need at least 8 ounces. If you decant into smaller bottles, you need to make a label that has the name of the product, and the expiration date. Again, betadine loves to leak and stain stuff, so we recommend putting it in a ziplock bag.
Topical Antibacterial OR Antimicrobial OR Antibiotic Agent – the standard used to be Furazone, but we realize that a) not everyone likes furazone; and b) Furazone comes in a huge tub that you barely use, then it expires. Egads! Label MUST contain the words "antibacterial" OR "antimicrobial" OR "antiseptic". MUST have a current expiration date. WARNING: While the active ingredients in topical agents are effective in the treatment of wounds in horses, they can be hazardous to your health. It is a good practice to use latex/vinyl gloves or gauze squares when applying these topical agents.
You will need at least two (2) ounces (which is roughly the amount of a half-stick of butter) Any product without an expiration date will not be acceptable, as no expiration date means no active ingredient.
4″ Sterile Wound Dressing – This is your box of 4″ gauze squares. Each square should be individually wrapped. I recommend storing the box in a ziploc back as the liniment and betadine always love to leak on the sterile things. If the paper wrapper looks gungy or smells of liniment, you can't really use it because it is contaminated. For the average wound you will need 4 squares, so plan on at least 8 so that you can treat 2 horses, if necessary.
Rolled Gauze – 2 inches wide at a minimum; does not need to be sterile. Should have a full roll.
1 lb. Roll 12" Absorbent Cotton – Can be open, does not need to be sterile since it should not be used next to a wound. Should be: At least 12″ wide, can be wider; highly absorbent; at least one pound. Can be: Gamgee (3M Corporation), Kendall, Johnson & Johnson. Shouldn't be: Pads, absorbent or not, disposable diapers, etc., are not wide enough nor of variable length to accommodate bandaging different sized legs or parts (forearm, carpus, cannon, fetlock, pastern, hoof, gaskin, hock). Should not be non-absorbant sheet cotton, the type used to make standing bandages.
2 Flexible Stretch Adhesive/Cohesive Bandages – this is your vetrap, coflex. Should be new rolls.
1 Roll Adhesive Tape (1" min. width) – bandage or first aid tape–NOT duct tape or masking tape…
Bandage Scissors – must be blunt tipped and capable of cutting through thick bandages. Rusty crusty scissors need not apply!
4 Leg Bandages with Appropriate Padding for 4 Stable Wraps – need to have adequate materials for all the shapes and sizes of horses/ponies on your team. Bandages should be rolled and ready to be applied. We frequently see a new bag of track wraps (velcro on the outside), and we have to explain that you need to take precious time to re-roll the wrap before you can even get started. Not a good use of time when your horse is injured!
More details can be found in the 2014 Horse Management Rulebook, under the HM Required Equipment Checklist Amplification section.
We hope that you don't have to use your first aid kits at rallies, but if you do, having a neat, well-stocked kit that is readily accessible will help make treating your horse MUCH easier.