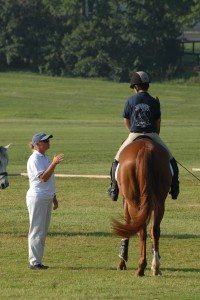 Fashion for Club/Regional Level Examiners and Instructors
By Riley Rockford, Lake Shore Region, National Youth Board Secretary
As a member progresses through the levels, they get to a point where they are expected to be actively teaching and testing at the club or regional level. This can be anything from going to a new center and testing six D1s to being an available coach at rally. Something that we regularly discuss with rising members in our region is how to dress when teaching or testing.
When teaching a lesson, it is good to show up prepared to get on a horse if you need to. Bring your helmet and gloves down to the ring with you; wear breeches and paddock or tall boots. Skip the crummy t-shirt you use for barn chores and wear a nicer shirt instead. Keep in mind that you teaching, not clubbing, wear something practical and appropriate. A nice rule of thumb is to dress as if you are taking your HB. Wear a polo shirt (tucked in), khakis, paddock boots and a belt. You definitely get bonus points if your belt and boots match. Remember that testings are a learning experience, but you are not there to give a lesson. It is not the time to get on the snotty pony, but you still need to be dressed professionally and practically for being around horses.
Always take weather and location into consideration: what is the temperature, is it supposed to rain, would you be inside or outside? Remember that in summer, you can always take layers off as the day warms up. If it is a sunny day, consider wearing a hat with a brim, sunglasses or both. The last thing you want is to be uncomfortable and not able to focus on what is going on in the ring – not only does being unfocused make you seem unprofessional, it could be potentially dangerous.
Keep in mind that you are setting an example to younger riders and that some kids might think of you as a role model. Even when kids are not paying attention, many parents like to watch what is going on. If you make a good impression, they might ask you to teach their child on a regular basis, do a club clinic or suggest you to another parent or club. Never underestimate the power of word of mouth.
Whether teaching or testing:
• Keep your cell phone on you in case of an emergency. Have it set to silent or vibrate.
• Wear a watch to keep track of time and stay on schedule.
• It's a good idea to keep a waterproof jacket in your car, just in case.
• Sunglasses and a brimmed hat
• Keep a bottle of water with you, especially on long days. No need to get dehydrated!

Views All Time
322

Views Today
1