Courtesy of Yvette Seger, Horse Management Guru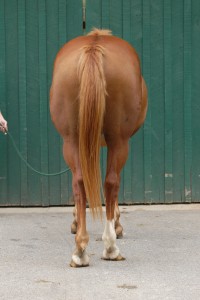 HM Tip #2 Dealing with…DANDRUFF!!!
One of the most difficult parts of transitioning from a D Pony Club member to the C ratings and beyond is learning how to address dandruff in your horse's mane and tail. Dandruff in horses, like in people, is caused by a fungus that causes excessive oil production on the skin, resulting in those nasty flakes. Therefore, the only way to effectively treat dandruff is to clean the skin around the hair on the tailbone and under the mane. The biggest thing that PC members miss is the base (bottom) of the tailbone, and thus this is the most common source for deductions during the formal inspection.
There are no "quick fixes" for dandruff. If your horse has dandruff, you need to start now! The best place to start is washing the mane and tail with medicated shampoos. You can use products formulated for horses, such as MTG, but human products (Selsun Blue, T-Gel, T-Sal) work well too. The key is to get the shampoo down to the skin (particularly in the tail) and let the product sit for a few minutes. Rinse thoroughly, pulling out any large scales, flakes, scabs as you comb the tail. Between washes, I recommend the wonder-agent, Listerine. Why Listerine? Well, think what a mouthwash does–it kills bacteria and other funk in your mouth. The best part is that because it has an alcohol base, it dries quickly. I know there are a lot of "flavors" of Listerine, but I would go with the traditional version, as some of the varieties have menthol products which won't feel so great to your horse's tailbone! I also use Listerine as my "re-wetting" product when braiding, and maybe a future tip will talk about the use of Listerine as an everyday liniment and body wash!

Views All Time
349

Views Today
1