Courtesy of Yvette Seger, Horse Management Guru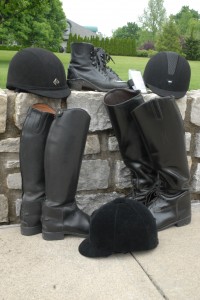 HM Tip #1
Tall leather boots need to have trees, both in the toes and in the leg shaft. Not only do trees help your expensive boots maintain their shape, but they also make it a bit easier to polish your boots. While the cedar boot trees that you can purchase from stores like Bit of Britain or Dover Saddlery are lovely, they are a bit expensive. Leg trees can be made by rolling up a few sections of a newspaper (you want the total diameter to be similar to the calf of the boot) and then putting the roll into a knee or tube sock (funky socks rule.) Don't forget to label with your name or initials!
Toe trees are a bit trickier. You won't be able to get away with wadding up some newspaper or ball up socks at Nationals. You can get regular shoe trees for a fairly small amount of money at Wal-Mart or Target, but if you like craft projects, you can fill a knit knee sock (pantyhose are too delicate) with kitty litter (unused–duh!) so that it makes a solid foot shape. Again, don't forget to label!

Views All Time
328

Views Today
1