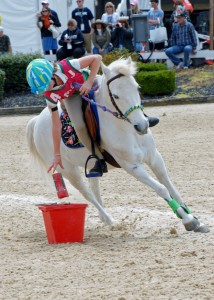 By: Betsy McLeod
Mounted Games is frequently referred to as the Pony Club discipline with "a need for speed." It could, however, be more accurately be known for its need for balance, accuracy, rider-pony communication, and teamwork.
While initially created by Prince Philip in 1956 to offer competitions for pony club members who didn't have, either by lack of funds or necessity, "show ponies," Mounted Games has matured and evolved to stand as much a respected and legitimate discipline as the traditional three Pony Club has offered.
Each game is designed around these principal skills, which together serve as efficient building blocks to supplement training for any event. Each task requires impeccable core strength, and builds balance and effective natural aid use while also encouraging the rider to multitask and use cognitive thinking skills. While some may see the sport as a reckless dashing-about with amplified danger of spills and injuries, the true games rider knows that speed is secondary to accuracy, and much like on a cross-country or stadium course, speed should be carefully calculated into the equation after understanding the movements of the horse and abilities of the rider. When all this is put together, Mounted Games is a fun alternative to the individualized disciplines, one that teaches the importance of teamwork and communication.
The team aspect of games is one of its pride points. While Pony Club itself emphasizes responsibility and teamwork through the use of overall horse management points on a specific team, Games and Polocrosse are the only two that actually require communication and teamwork between riders during the actual riding phase of the discipline. In my 20 years experience in all of the disciplines, this type of team-centered environment led to more tight-knit friendships and group problem-solving than any of the others. Restrictions on spectator involvement also lends a hand to this environment, as spectators are only allowed to cheer on teams instead of individual riders; the rider is the team, and the team is the rider.
Recent changes in the rules and standards of the discipline bolster these views. The Advanced division is back, with two riders on each team, for pony club members age 18-24. This change gives flexibility taking into account skill, experience, and maturity on the playing field.
One of the drawing points of games, and the main drawing point envisioned by Prince Philip, is that anyone with a pony can play, and even win. Heart is weighed as equally as skill, as a pony with heart will oftentimes become a better-suited mount than a pony with perfect gaits.
It's beneficial for local clubs to incorporate games into their meetings as a break from monotony and a chance to develop balance and core strength in a different manner. Mounted Games is also a great way to build friendships between club members and create an easygoing environment for young riders to laugh, bond with their mounts, and have fun.