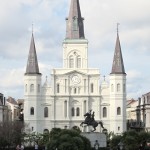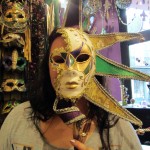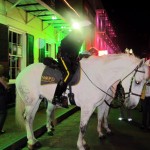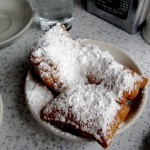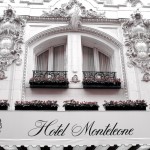 This year the Annual Meeting had big expectations to fill since it was being held in the "Big Easy," and I'm pretty sure that every attendee felt beyond satisfied! The meeting was held in a beautiful Sheraton hotel right on Canal St., literally just across the street from the French Quarter, and only two block from Bourbon St. Other than one rainy morning, we had great weather. Those who were lucky were able to sneak away during their free time in between meetings and workshops to go explore the Quarter, or perhaps take the green streetcar to view the gorgeous homes in the Garden District.
Since the Annual Meeting was held two weeks before the start of Mardi Gras, many of the homes, store fronts, and balconies were already decorated for the celebration. One night, at 11:30pm, the sounds of a marching band could be heard from outside the hotel across the street, with a king and some members of a Mardi Gras Krew in costume dancing around. Even though it was still two weeks away, the spirit of Mardi Gras was certainly in the air.
During the day, committees met in meetings and took care of business going forward for 2012, and attendees all seemed to thoroughly enjoy the many educational workshops that were available. The NYC had a three-day leadership workshop, in which they were able hear how USPC played a roll in the lives of the Alumni Academy of Achievement inductees. The NYB stayed busy discussing ideas with the NYC, helping out a local therapeutic riding center with some hours of volunteer service, holding our own meeting to discuss 2012 goals, and presenting our workshop "The Pony Club Resume: Making the Most Out of Your Years."
As soon as the sun set, and meetings were adjourned, most everyone made their way to a local, authentic restaurant for some real Cajun cooking. Mulate's was a popular place for authentic Cajun food and music, set in an old dance hall, complete with grilled alligator on the menu. Some of the must eat entrees were broiled crawfish, a po-boy sandwich (I recommend the soft shell crab one), a muffaletta, and in the morning, of course, some fresh beignets.
Personally, this was an extra amazing opportunity since I have distant cousins who live in New Orleans that I haven't seen since I was five. Getting to spend time with them and have them show us around was really the icing on top of the trip. It was great to hear their personal anecdotes about Katrina, and New Orleans in general. Those extra special touches are memories that I'll never forget.
So whether you are an RS, new DC/CA, supportive Pony Club parent, or a youth member that loves to travel, hear the new changes in USPC, meet new people, and partake in workshops with the likes of Daniel Stewart and Richard Lamb, I would HIGHLY recommend coming to the USPC Annual Meeting!
Happy Riding!
Lauren Burtz
Area 2, NYB Representative