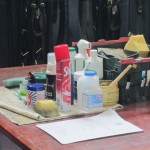 Even the Royals know a toothbrush is the best way to clean tack! (From the Royal Mews)
My name is Macy Anne and I am an H-A member of Five Valley's Pony Club
in the Big Sky Region as well as Chair of the National Youth Board and a member of the Board of Governors. I have been in London a week today and am already suffering from horse withdrawals! Luckily, thanks to Google, I was able to contact the "Area Manager" (Regional Supervisor) of The Pony Club here and she kindly invited me attend a meeting with her area's DC's.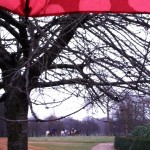 A view from my umbrella, ponies and children in Hyde Park!
She was wonderful enough to help me figure out which train to take (you see I don't really ever catch trains in Montana) and by some stroke of luck I made it there on time. The meeting started as everything does here, as far as I can tell, with fresh tea and the most delicious homemade chocolate cake!
I felt almost like I was in an alternate universe. I was at Pony Club, they were technically speaking English, but they were talking about branches, B+, open level competitions, assessments, numnahs and resits. Luckily, the ladies next to me were kind enough to be my own personal translators, but I rather wish I had kept notes for next time. Though many things had a different name, their exciting new ideas and current difficulties are exactly the same as the ones we face at home. These issues were things like keeping costs down for the members, traveling between clubs (they think an hour is quite a ways though), and keeping their older members involved and feeling appreciated.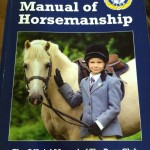 Sitting at the train station waiting to head back to London, I felt so incredibly lucky. Here I am half a world away, and I have contacts that I feel so safe and comfortable enough with that I would travel hours on a train to meet them. Even my parents thought it was a great idea! Though they may have much cooler accents, the people who I met today are the same dedicated, kind-hearted volunteers who run Pony Club back home. Many of them offered to take me home, and I am grateful that the odds are looking considerably better that I will get to pet a horse and get a home cooked meal while I am here!
PS. I took some pictures of their brand-new revised manual! My favorite part was the UK/US translation page, I think they should have added a couple more things though…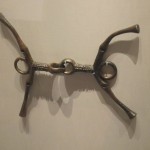 < What kind of action does this bit have? I'm just grateful I don't have to polish it! (The British Museum)

Views All Time
348

Views Today
1