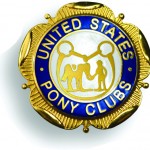 February 7, 2012 (Lexington, KY) – Four individuals were awarded the Founders' Award at the 2012 United States Pony Clubs, Inc., Annual Meeting and Equine Symposium. The Saturday night Banquet and Ball made a perfect backdrop to honor Pony Club's most worthy volunteers where more than 500 people were in attendance. This prestigious award is made each year to one or more living persons who have made a significant contribution to Pony Club at the Local or Regional and National levels over a period of 20 years or more. Pony Club CEO, Kevin Price summed up the award by saying "I believe one of the most important things we do as an organization is recognizing those individuals who have given and dedicated so much of their lives to Pony Club. Recognizing their actions defines us an organization, and sends a clear message of expectation of achievement for those in future to follow."
Geoff Brown has been involved in Pony Club on multiple levels for many years. He was a club sponsor in Lakeville Pony Club from 1988-1996 and again in 2004. He served as Joint DC for that club in 1991, 1992, 1995-1997, and continues as the Lakeville Pony Club webmaster to this day. At the National level, Geoff began as the inaugural DC Digest Moderator for Pony Club and serves to this day as the Administrator. As moderator for the first Digest, Geoff was a trailblazer in enabling club leaders to communicate with one another. Geoff's spirit of volunteerism and understanding of the organization and people in general makes him a national treasure.
H. Benjamin Duke III has been involved with Pony Club since the mid 1960s as a member of the Platte Valley and Cherry Creek Pony Clubs, graduating with an A rating. Almost immediately he became active on the national level, serving first on the Exchange Committee and the Polo Committee in 1976 and 1977. Ben served a number of years on the Horse Management Committee, beginning in 1980, including serving as Chairman and Vice Chairman. He went on to serve on the National Testing Committee, Communications Committee, Standards Committee, Combined Training Committee, and Foxhunting Committee, spanning the time from the early 1980s to the late 1990s. He is especially known for his service on the Manual of Horsemanship Committee, including Chairman, and as a consulting editor of the manuals. Ben was honored as a National Legend at the Pony Club 50th anniversary Annual Meeting and was inducted into the Academy of Achievement class of 2004. Ben continues to ride and own horses and especially enjoys foxhunting with the Arapahoe Hunt, where he has served as Whipper-in.
Alicia Henderson began her long volunteer service with Western North Carolina Pony Club serving in several capacities, including Jt-DC. Alicia then became involved with the Carolina Region, as RS from 1999 to 2007 and has long been involved with the sport of Tetrathlon. She has had a major influence in shaping the "attitude" of the sport. Always acting in the best interest of Pony Club members, Alicia was instrumental in pushing for retesting in the same season rather than having to wait until the next year, which allows those who are aging out the opportunity to test again before the end of their Pony Club experience. Alicia served on the Board of Governors for two terms, 2005-2010. Alicia's laid-back personality and great sense of humor make her a popular choice as Chaperone for International Exchange teams. She accompanied the 2010 Inter Pacific Exchange Team to Hong Kong and mainland China and in 2011 she accompanied the Tetrathlon Exchange to England and Ireland.
Deb McKenzie Willson achieved her A rating while a member of Pony Club at Ft Benning in Georgia. Deb was on the Horse Management Committee from 1983 to 1989. She has spent nearly 30 years as a National Examiner and has been Chair, Vice-Chair, Member, H-A Coordinator or Advisor for the Testing Committee from 1990 to this day. Deb has also helped shape Pony Club Policy at the National level. She is in the second year of her 4th three-year term as a Board of Governors member (1993-1998, 2008-2013). In 1998 she served as First Vice President of Pony Club. Deb has been a member of many Board Committees, including Policy, By Laws, Governance, Finance and Board Development.
About Pony Club- The United States Pony Clubs, Inc. (USPC) was founded in 1954 as a nonprofit national youth organization to teach riding and horsemanship through a formal educational program. Many of the nation's top equestrians, including many of our Olympic team members and many business professionals, government leaders and career military officers, have roots in Pony Club. Youth members range in age from as young as 4 through age 25, and include adult members of the Horsemasters Program. There are approximately 10,000 members in 600 clubs and riding centers in 43 regions throughout the country www.ponyclub.org.