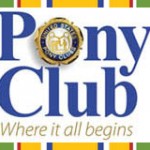 http://thebarrygroup.com/eric2011/Blog/tabid/88/EntryId/22/Pony-Club-Pride.aspx
Dear Fellow Pony Club Alumni,
One of my goals as a Board of Governor and a professional in the equine industry is to preserve the quality of horsemanship that is deteriorating in this fast-paced culture we live in today. Pony Club provides the vehicle and base to prepare young horsemen and women for the future. My goal is to make more people not just aware of Pony Club, but to let them know what Pony Club has done for individuals such as yourself. Whether you are involved with horses to this day or not, Pony Club taught values that we all use in many life changing decisions. Many of you stand as idols to our youth; they want to follow your footsteps. What better way to start following your footsteps, knowing you were involved in Pony Club.
If you contact communications@ponyclub.org there is an image that says "Proud Pony Club Graduate" that I use on my Web site and a copy of the Pony Club motto.
As a graduate of Pony Club, I would like to ask you join me in sharing our pride in Pony Club. Download the gif file and put it on your Web site with a link to www.ponyclub.org . Then print a copy of the motto, and display it at your facility or place of business. I am proud to be a Pony Club graduate and I feel we have every reason to display and spread the word about what Pony Club teaches and instills in its members.
After you have downloaded the Pony Club "Proud Pony Club Graduate" image and/or the USPC motto, I ask that you send a copy of your business logo, Web site address, name, (or former Pony Club name), and highest rating to communications@ponyclub.org so staff at the Pony Club headquarters can add your link on the Pony Club website.
Please share this request to other Pony Club graduates you know. We want to spread the word about our great organization and display the Pony Club wordmark and motto as broadly as possible.
Thank you,
Eric G. Dierks, USPC Board of Governor