The morning started off cool and foggy.  As the time for the test ride got closer the fog got heavier making it unclear whether we would be able to start on time.  But just as the test rider, Enrique Mercado, from Mexico, trotted down the centerline the fog lightened and b the end of his ride was basically gone, leaving a beautiful sunny and warm (very warm by the afternoon) day for Dressage.
At the end of the 49 horses. it was clear from the closeness of the scores that the International Judge Training programs are working as our scores were very close all day.  Yes, there was one that Janine, sitting at E, liked and scored a bit higher and there was one that I, siting at M, really liked nd for those two the score were a bit different. Personal preference always comes into play to some degree.
The day finished with team USA leading the pack, with 2nd Canada and 3rd Brazil and with Canadian Jessica Phoenix riding the stunning Pavarotti as the best score for the day, despite his major spook at the judges stand as he enterd .  In 2nd was Michael Pollard on his lovely yong grey Schoensgreen Hanni who impressed us all but showed his greenness in a couple places in the test.  Third is USA and USPC's Hannah Sue Burnett who was one of only two riders wearing an approved helmet in the Dressage.  USA rounded out the top of the list with Buck Davidson on Absolute Liberty in 4th and Shannon Lilley, the other helmet wearer, riding Balligowan Ginger in 5th.
I did not get a chance to take many photos yesterday, but here are two.  The first is Chief Steward Sally O'Connor talking with GJ President Alain James in the Judge's box.  The second is a snapshot of the spectator grandstand on the side.  The VIP section was behind and  above the judge' boxes with a great view of every test.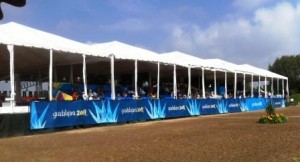 They have kept us fairly busy and the venue is about 45-60 minutes from the hotel, depending on traffic, so that has not left much time to write except early in the morning, so not sure when I will be able to get the XC results up for you.  We are expected to attend the sponsors party this evening and there is no internet connection at the facility,
Stay tuned.
Wayne