Thursday – I have come to the the conclusion that the horse inspection may be the most dangerous phase of Eventing.  We found ourselves ducking for cover several times today.  There were two horses in particular that were quite impressive with their kicking!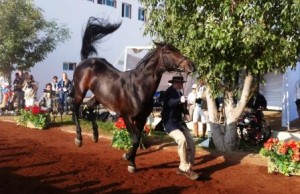 Out of 51 horses presented, one withdrew from the hold and one was eliminated on re-inspection. All the American and Canadian horses passed the first inspection and will move on to the Dressage phase.  Here is the Ground Jury at work.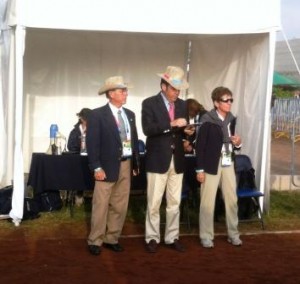 The  Cross Country course looks really amazing now that the flags and
numbers are up.  Many of the fences are theme fences based on the area.   If you read last weeks Chronicle of the Horse you saw a photo of one of the feature fences, the aqueduct.  While difficult to see the question in a photo, the horses will jump the water trough with the water pouring in from the pipe above.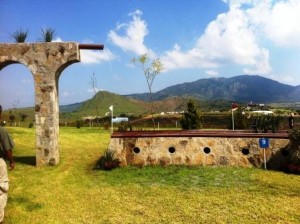 Since Santa Sophia Country Club, is primarily a golf course and fence 2-7 are actually on some of the fairways, there of course has to be a golf theme also.  Like the Golf Ball combination 4A-B.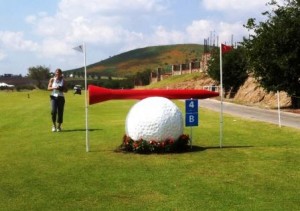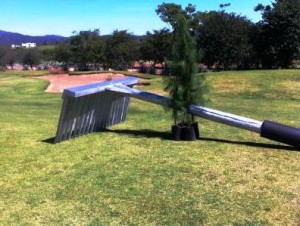 This photo was taken prior to being completed just to show ou the idea.  I will post more photos as soon as I am back in the hotel long enough to re-size them and get them posted.
I am composing this post sitting at the dinner table with the
other officials, the FEI delegation and Roger and Ann Haller.  We just
finished a 2 hour FEI open forum where the primary topic of discussion was whether or not the Pan Am Games which is  currently at the 2 star level should move up to 3 star level to stay a qualifier for the Olympics which runs at the 4 star level.  The jump from 2 star to 4star in less than a year is a huge step in experience for both horse
and rider.
More to come!