The plane landed on time at 12:30. The customs line was not too long and the people manning the Pam Am desk were very helpful in getting my transportation pass and getting me into a car. The Riu Plaza hotel, where the majority of the staff is staying is quite large, new and very modern.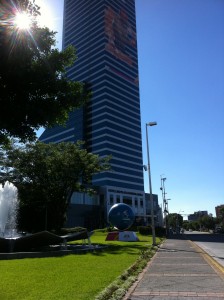 I checked in and received my credentials and food tickets and headed up to my room to find out that I had a roommate, Fermin. Fermin is an FEI Steward and is working with Eventing. We so far have hardly seen each other.
Picked-up my uniform – 1 pair of shorts that come below the knee, on pair of long pants in the size larger than I normally wear as that was the size closest available, but they are about 4″ too long, 2 nice Polos, a short sleeve white dress shirt, a cap, jacket, backpack, water bottle and a straw hat with the Pan Am ribbon as a hatband. Good thing the pants I brought are almost the same color as the uniform pants.
By the time I got all that done and unpacked, it was too late to go anywhere so I went for a walk and found this great horse statue. It s too large to get the whole thing in one photo and see ant detail, so here is a sample.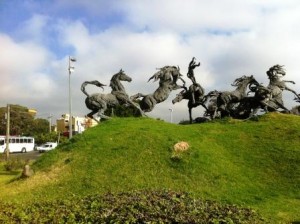 So, if you are a detail and schedule person, this is not the place to be. Competitions in Central and South American are not known for their punctuality or of even sharing more than a general schedule. Today Janine ( a member of the Ground Jury) and I took the bus to Santa Sofia to check the cross country course. I really hoped to get some great photos and did take a few, but mostly they show that the crew has a lot of work to do between this afternoon when we headed back and tomorrow morning when the course is supposed to be shown to the riders. So far there are no numbers or flags and there are a few fences still waiting to be set. The monsoon that hit here last week clearly slowed down production and in one area they have lots of heavy equipment removing a couple feet of mud and replacing it with dry dirt!! They have also planned an alternate route, just in case.
John Williams designed the course and Eric Bull is here helping get it all set, There are some interesting fences that I have not seen anywhere, with the theme of a golf course. I will share more pictures tomorrow, but one is a giant rake, beside one of the sand traps on the golf course. Here is a picture, there will be a skinny a few strides up the hill after.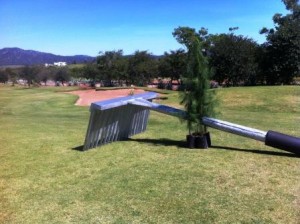 The food has been amazing here at the hotel, but I hear it has been not as exciting at the other locations as someone did not think about the number of days horses and riders would be around PRIOR to the competition actually starting.
I heard that there are 4000 officials for the 36 sports that make up the Pan Am Games. And I thought Festival Champs was hard with 7 disciplines!
In case you had not heard, Jon Holling had to scratch his horse which moves USPC "A" grad from Difficult Run PC, Lynn Symanski up to join Buck Davidson (unratrated USPC former member of Mr Stewart's Foxhounds PC, Hannah Sue Burnett, graduate "B" from Midsouth Region, Michael Pollard, graduate D3 from Greenvill Foothills PC, and Shannon Lilley (not a PC grad) for team USA.
That's it for today folks. Stay tuned.